6300-NR Series Deep Groove Ball Bearings (Slot + Snap Ring)
High precision
Machinery parts
Motor bearings
Product description: These deep groove radial ball bearings are suitable for low and heavy radial loads. The 6000 series can accommodate low to moderate thrust loads in either loading direction.
This series is similar in function to the 6200 series. Produced with larger ball complement enabling the bearing to withstand greater radial and thrust loads for a given bore size. This series is available with open, shields, seals, or snap rings upon request. Sealed bearings may be obtained with light, standard, or heavy starting torques.
The 6300 series is has a larger ball complement and heavier races, which provide greater radial, thrust, and combined load capacities. Functionally, the 6300 series is similar to the 6200 series. Bearings can have permanent metal shields (ZZ) or removable rubber seals (2RS) installed. As with other series, tolerance grades Abec 1-9, internal clearances C2 to C4, and various cage designs are available.
Seals
Rubber seals (RS/2RS) have the optimum sealing action with increased friction. Metal seals (Z/ZZ) are suitable for higher speeds, but they have a limited sealing action as they seal contactless. Open, seal-less bearings are suitable for extremely high speeds and – furthermore – they can be regreased more easily. However, they are more susceptible to soiling.  | more
with slot and snap ring made of spring steel for form-fitting, axial fixing in a bore
medium series with compact dimensions and average weight
balanced ratio between radial load capacity and weight
suitable for high radial loads and light axial loads in both directions
offers high running accuracy, quiet running, and high speeds
seal: contact lip seal on both sides made of rubber (2RS) for high sealing effect
the good fixed bearing property, but can also be used as a floating bearing, each in both directions
manufacturers of bearings, such as FAG, KOYO, NSK, SKF, SNR, etc. assign different suffixes for their characteristics, for better orientation take note of the comparison table of bearings (see further information)
Loadable, stable, and with good spinning characteristics. The deep groove ball bearing 6300-NR-2RS is a true all-rounder and, due to its balanced properties, it is suitable for a variety of applications. With the flange, it can be fixed axially, e.g. in boreholes. Main dimensions according to DIN 625-1.
Other options: Metal shield (ZZ) or rubber seal (2RS) can be provided.

Deep Groove Ball Bearings are able to accommodate low to heavy radial loads and low to moderate thrust loads in either direction. They are available with metal shields (ZZ) or rubber seals (2RS). Several tolerance grades (Abec 1-9), internal clearance (C2 to C4) and cage designs are available to best suit the running precision and speed of the application.
Common Options:
ZZ– Two Metal Shields
2RS– Two Rubber Seals
NR– Snap Ring
M– Brass Cage
C0– Normal Internal Clearance
C3– Greater than normal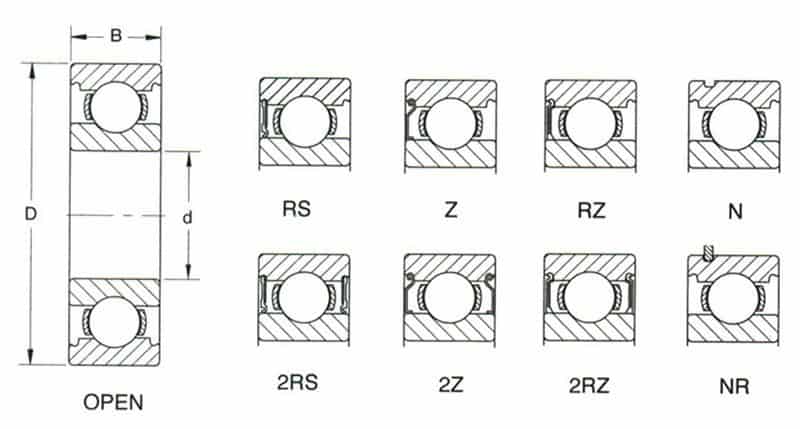 | Item # | (d) Bore Diameter | (D) Outer Diameter | (D) Outer Diameter | Seal | Internal Clear­ance |
| --- | --- | --- | --- | --- | --- |
| 6300-2RS-NR | 10mm | 35mm | 11mm | 2RS | CN |
| 6301-ZZ-NR | 12mm | 37mm | 12mm | ZZ | CN |
| 6302-2RS-NR | 15mm | 42mm | 13mm | 2RS | CN |
| 6303-2RS-NR | 17mm | 47mm | 14mm | 2RS | CN |
| 6303-ZZ-NR | 17mm | 47mm | 14mm | ZZ | CN |
| 6304-2RS-NR | 20mm | 52mm | 15mm | 2RS | CN |
| 6304-ZZ-NR | 20mm | 52mm | 15mm | ZZ | CN |
| 6305-2RS-NR | 25mm | 62mm | 17mm | 2RS | CN |
| 6305-ZZ-NR | 25mm | 62mm | 17mm | ZZ | CN |
| 6306-2RS-NR | 30mm | 72mm | 19mm | 2RS | CN |
| 6306-ZZ-NR | 30mm | 72mm | 19mm | ZZ | CN |
| 6307-2RS-NR | 35mm | 80mm | 21mm | 2RS | CN |
| 6307-ZZ-NR | 35mm | 80mm | 21mm | ZZ | CN |
| 6308-2RS-NR | 40mm | 90mm | 23mm | 2RS | CN |
| 6308-ZZ-NR | 40mm | 90mm | 23mm | ZZ | CN |
| 6309-2RS-NR | 45mm | 100mm | 25mm | 2RS | CN |
Related Deep Groove Ball Bearings Products
Related Deep Groove Ball Bearings Articles