NTN-SNR
Here at TFL-Bearing, we offer the full range of NTN-SNR products including ball, self-aligning, angular contact, cylindrical, needle, and spherical bearings at highly competitive prices which are available for same or next day delivery
NTN was founded in 1918 when investor Noboru Niwa, his sales company Tomoe Trading Co. and engineer Jiro Nishizono jointly designed and manufactured the first NTN ball bearing.
By 1939, NTN had built the Kuwana Factory, which would later become its global manufacturing center. In 1954, NTN became the first Japanese industrial manufacturer to receive the prestigious Deming Award for Statistical Quality Control. As more factories were established and NTN sales expanded to Europe, NTN continued to grow in the 1950s and 1960s.
The company now has the ability to produce ball bearings, spherical bearings, tapered bearings, cylindrical bearings, needle roller bearings, and automobile constant velocity universal joints. By the mid-1980s, NTN acquired the Bower™ brand from Federal-Mogul, which expanded the company's tapered and cylindrical roller bearing catalog. Ten years later, NTN acquired BCA™ from Federal-Mogul again to complete its product line of automotive clutch release bearings and special agricultural bearing components.
The success of Qixin's North American factory continues into the new millennium. A two-year phased investment in French bearing manufacturer SNR was completed in 2008, and NTN acquired a controlling stake in the company. As the fifth-largest bearing manufacturer in Europe, SNR's involvement in the aerospace industry and its excellent spherical roller bearing products are a key factor in NTN's continued growth.
Key NTN-SNR Bearings Products
TFL Bearings is the authorized distributor of NTN-SNR bearing. NTN-SNR is the leading manufacturer of almost all bearing types. TFL Bearings has the unique ability to support huge NTN-SNR bearing products through our inventory location, dedicated bearing application engineering personnel, and experienced NTN-SNR bearing sales team.
TFL Bearings can provide most of the bearing products in the NTN-SNR BEARINGS catalog. If you need our help, we are happy for you, you can fill out our online form and bearing engineers exchange.
TFL Bearings Supports the full line of NTN-SNR BEARINGS products and specializes in the following.
With more than ninety years of manufacturing expertise in ball bearings, NTN offers one of the industry's widest arrays of products to fit your application. Our ball bearings are available to you off-the-shelf, in sizes ranging from 10 mm to 320 mm outside diameters. And with a virtually limitless variety of configurations of seals, shields, lubricants, internal clearances, and cage designs, there's no reason to go anywhere else for your ball-bearing needs.
Deep groove, or single row radial, ball bearings are the most widely used bearings in all general industries. They utilize an uninterrupted raceway that makes them optimal for radial loads. NTN radial ball bearings typically come with pressed steel cages, but also offer machined brass or molded nylon material. NTN also offers bearings with locating snap rings on the outside diameter.
Angular Contact Ball Bearings
SINGLE ROW ANGULAR CONTACT
Single row angular contact ball bearings feature raceways with high and low shoulders. These opposing raceways are designed to carry thrust load in one direction. NTN can preload the bearings at the factory so that the correct load will develop once the bearing is put into service. The bearings in this series are assembled with a specific internal clearance so that they will have a specified contact angle under load. The standard contact angle used by NTN is 30° but, in many cases, a 40° contact angle can also be specified. We also offer special high-speed bearings with phenolic resin cages and a 15° contact angle.
DOUBLE ROW ANGULAR CONTACT
Double row angular contact ball bearings have an inner and outer ring with a double raceway. The two rows are oriented so the contact angle is similar to a pair of back-to-back single row bearings. NTN's 5200 and 5300 series offer a one-piece inner ring double row raceway that can carry thrust loads in either direction. The 3200 and 3300 series have filling slots, so it is necessary to mount them with the thrust load acting against the un-notched face of the rings.
Insulated Ball Bearings
Electrical pitting often occurs in bearings used in electrical equipment, such as motors and power generators, as a result of current leakage. An electrical current present near a bearing can flow through the bearing, causing the current to arc between the rolling elements and the rolling surface. The arc created will elevate the temperature of the steel at the arc point and change the material structure of the steel, ultimately leading to bearing failure. This electrical pitting can be prevented with coated bearings or ceramic hybrid bearings.
CERAMIC HYBRID BEARINGS
For especially problematic applications, NTN offers ceramic hybrid bearings. Using conventional steel inner and outer rings, silicon nitride rolling elements provide excellent electrical insulation while reducing rotating mass and improving heat dissipation.
The unique properties of ceramic rolling elements can also extend service life and extend grease intervals.
Ceramic hybrid bearings are gaining popularity in the wind energy industry, where service access is difficult and conditions especially harsh.
Speciality Ball Bearings
Double-row, self-aligning bearings utilize an inner ring with a single spherical raceway. In this configuration, the inner and outer rings can be misaligned relative to each other. The boundary dimensions of self-aligning bearings can be the same as standard ball bearings.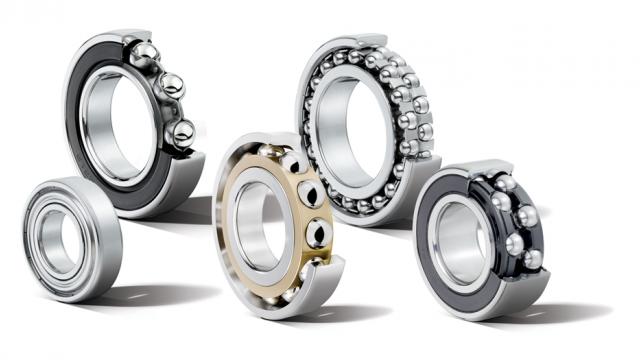 ULTAGE® SPHERICAL ROLLER BEARINGS
The first spherical roller bearings with metallic shields are proposed in the KIZEI® bearing range.  This innovative solution created by NTN-SNR is easy to use and offers production output and equipment reliability optimization while reducing maintenance costs.
Advantages offered by KIZEI®
Protection against external solid contamination thanks to metallic shields
Improved lubrication due to better grease retention inside the bearing
Longer bearing lifetime compared to standard open bearing
ISO dimensions – 100% interchangeable with standard open bearing
Premium characteristics
ULTAGE load ratings and speeds
Nitrided steel cage and shields for better shock resistance
Wide working temperature range (-40°C up to +200°C)
Initial lubrication process similar to open spherical roller bearing (bearing delivered without grease) – Reduced in-service lubrication frequency
Similar misalignment to open spherical roller bearing – Possible internal inspection to facilitate maintenance
Mounting elements and procedures are identical to that of a standard bearing – For tapered bore, internal clearance checking is possible after mounting.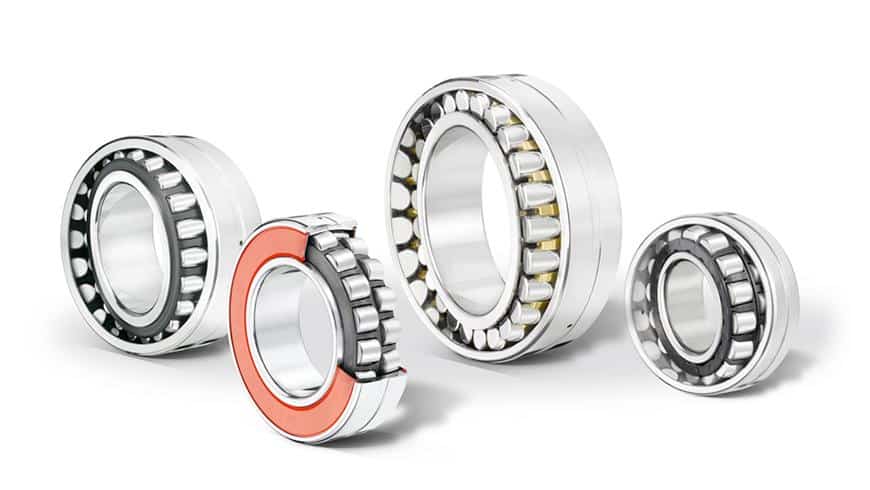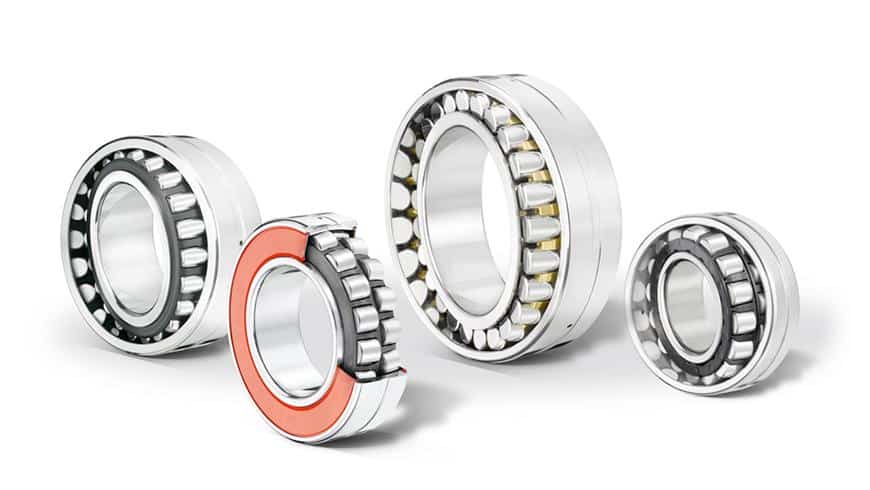 TAPERED ROLLER BEARINGS
NTN offers tapered roller bearings in ISO (metric), inch, and J-metric series with single-row (cone/cup), two-row (back-to-back or face-to-face), double-row (double cup or double cone), and four-row assemblies available. NTN and Bower integrated offerings allow customers to optimize their tapered roller bearing selection by customizing geometries and surfaces, ensuring the product delivered meets customer needs.
Because of their strengths, NTN-SNR tapered roller bearings offer interesting opportunities in many markets, such as agriculture, rail, communications, steel, wind energy …  
NTN-SNR plays a leading role in the bearing industry. Going beyond the design and production of bearings, we have been recognized for nearly 100 years for our ability to innovate. Uncompromising about the quality of our products, we closely monitor the manufacturing process at our production sites in Japan, France and the United States. 
Choice: a complete range
Our offer contains more than 3000 references, in imperial and metric dimensions, covering the entire core range. In addition, our engineers also develop tapered roller bearings customised to the specific needs of your markets (wind energy, railway, agriculture…). 
Quality: high-performance steel
We offer several types of steel for tapered roller bearings. Our standard? Carburizing steel, hard on the surface and ductile in the core to better absorb shocks and increase useful life. When used in arduous applications such as mines and quarries, we are able to achieve a 40% increase in service life thanks to this steel.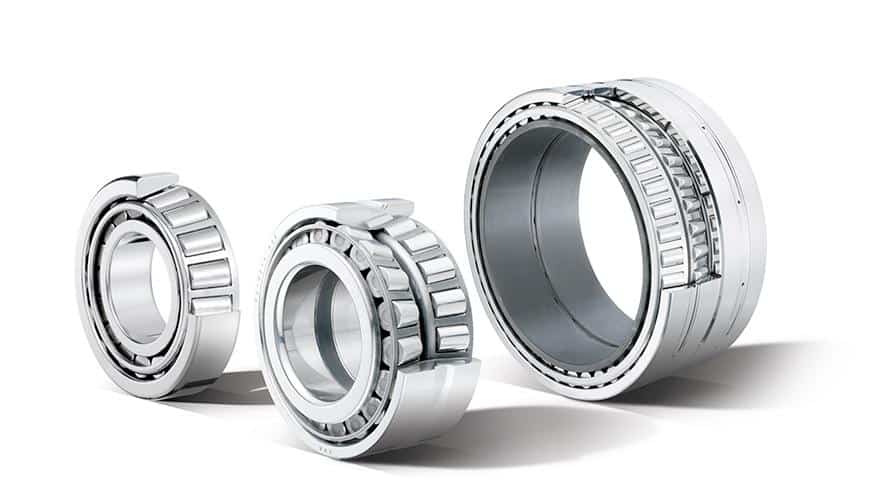 NTN & SNR CYLINDRICAL ROLLER BEARING RANGE
Whether you're looking for an American-made, case-carburized, inch series cylindrical roller bearing, or a metric series, through-hardened variety, NTN has you covered with a proper fit to your application. Offer cylindrical roller bearings under the NTN and Bower® brand names, we use premium steels and special heat treatments to extend the life and increase reliability when applications require. Precise control of heat treatment, dimensions, and surface finish of the components further contribute to reliable bearing performance.
Why choose an NTN – SNR cylindrical roller bearings?
Premium brands: our cylindrical roller bearings are defined according to the ultimate design rules and offer the best-in-class quality level. Mainly produced in Japan, Europe, and the United States, they are stored in our European warehouses.
Standard or tailor-made ranges: with just over 1,500 product references, our standard CRB range fulfills all your needs, while the bearings under the ULTAGE label provide the highest level of performance and reliability. Our tailor-made range will meet all your specific needs. 
Optimized cages made of polyamide, steel, or brass: depending on their properties (mechanical resistance, elasticity, high-temperature resistance, speed ability), the cages improve the performance of cylindrical roller bearings.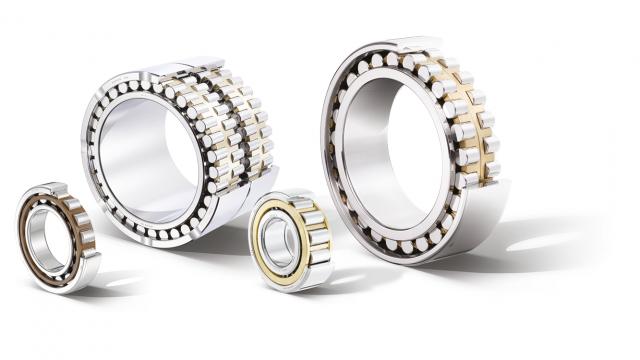 HIGH PRECISION BEARINGS
NTN offers a wide range of precision Angular Contact Ball Bearings for use in high speed machining. These product designs are manufactured to address both radial & thrust loads while still maintaining speed requirements needed for metalworking and other machining processes. These designs are normally found in CNC spindles which are critical for maintaining tight tolerances to achieve proper finished goods in manufacturing.
Precision Cylindrical Roller Bearings are essential in spindle designs utilized in the manufacturing marketplace. Both single and double row precision cylindrical roller bearing designs are manufactured with tighter tolerances and clearance options to maintain efficient finished goods. Cylindrical rollers
bearings are required where thrust loads and rigidity are present in the machining process.
Precision taper roller bearings are utilized within some CNC machining processes. They are found in small spindle designs that require heavy thrust load capabilities. They also can be found in other machining functions not related to the primary spindle itself. Our precision taper rollers are manufactured with tighter tolerances to maintain proper functionality.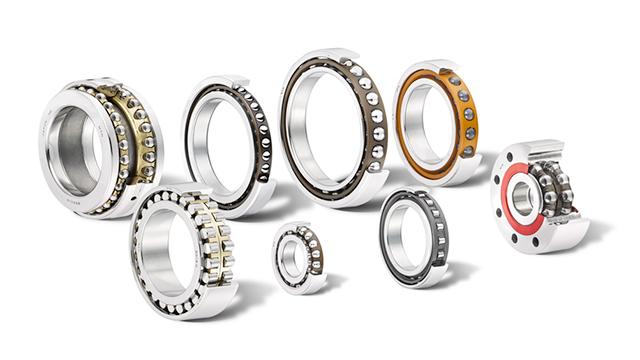 NEEDLE ROLLER BEARINGS
Diverse types of needle bearings are available in a wide variety of sizes and tolerances, for a multitude of applications.
Needle roller and cage assemblies are offered in single or double row, solid or split cage, metric and inch sizes; as well as in connecting rod bearings for special applications.
Single and double row bearings are available with or without ribs, and with or without inner rings.
Thrust bearings are offered in single-row roller and cage assemblies.
Yoke and stud-type track rollers are also available.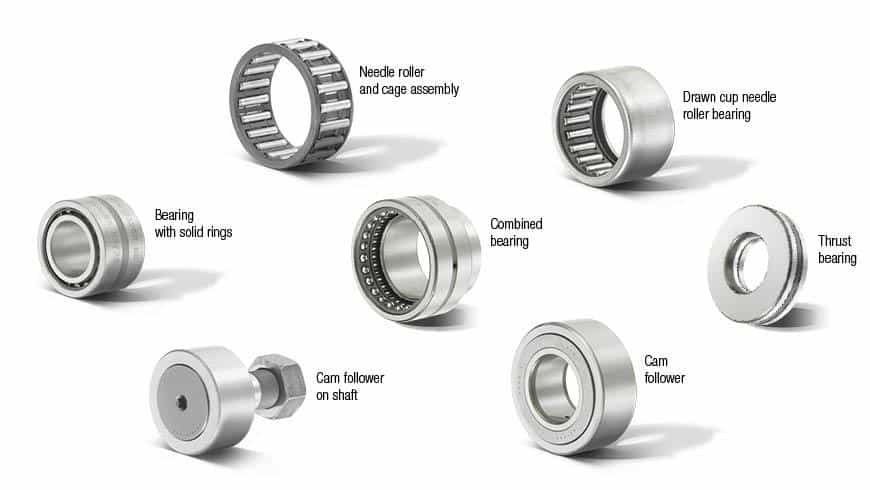 NTN-SNR BEARING HOUSINGS
The wide number of options in the NTN-SNR bearing housing ranges makes it possible to find a solution for every application. We can offer you: 
different types of bearing housings: single- or two-piece housings suitable for single or multiple bearings
materials suitable for the application: grey cast iron, ductile cast iron, special materials
wide size range for shaft diameters: from 20mm to 480mm 
2 types of lubrication: grease or oil
different types of bearings in bearing housings: spherical roller bearings, deep groove ball bearings, cylindrical roller bearings, special bearings
a range of sealing systems for a choice that is best suited to the operating environment: double-lip seals, V-ring seals, felt strip seals, labyrinth seals, Taconite seals
The choice of the combination of housing/bearing assembly components will depend on the application, where it is installed, and the operating conditions.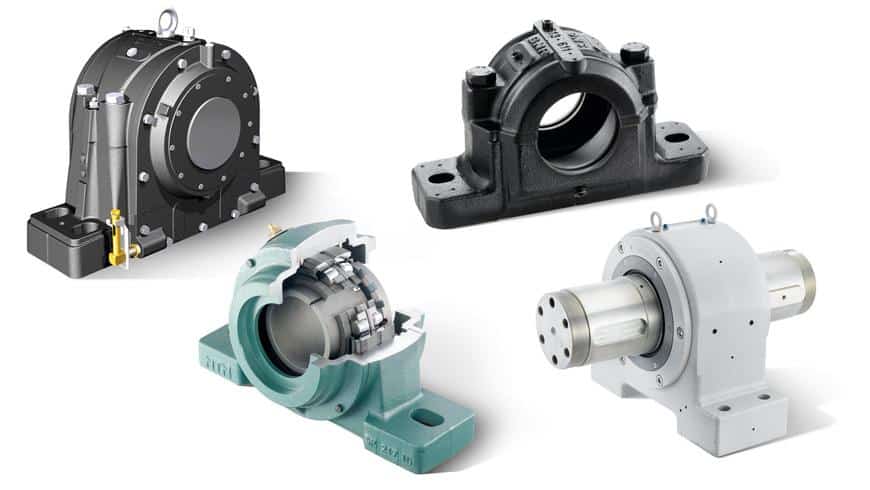 SELF-ALIGNING BEARING UNITS
The range of NTN-SNR self-aligning bearing units is wide, with more than 40,000 possible combinations. It covers the majority of industrial applications, providing a high quality, value for money solution.  
Installing a self-aligning bearing unit is simple and easy to do for anyone, without the need to have specialist technical skills. Indeed, they are simply: housing + bearing insert.
designs: split or flanged Plummer block housings, take-up housings, cartridge bearing units, and hanger bearing units.
sizes: for shafts with diameters from 12mm to 140mm
material: grey cast iron, stainless steel, pressed steel, thermoplastics
locked onto the shaft by means of setscrew, eccentric locking collar, adapter sleeve, press-fitting
sealing system: lip seal, triple lip seal (L3), multiple seals (L4), contactless seal, flexible seal (ESR)
lubricants: standard grease, high and low-temperature grease (T20, T04), food-grade grease, noise quiet grease, solid lubricant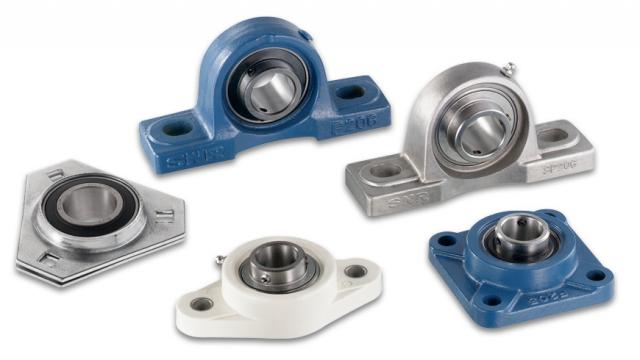 Ball-bearings for every industrial application
The big names in the global industry trust us. This is why the different ball-bearings from NTN-SNR can be found in use in many sectors:
bearings with contact seal: agricultural applications
bearings with low torque seals or non-contact seals: electric motors and hand tools
bearings from the Topline range: iron and steel industry,  agri-food, wood processing, electric motors, and printing
bearings in the MegaohmTM range: electric motors 
hybrid bearings with ceramic balls: miniature encoders and encoders for the wind-energy sector (numerous dimensional possibilities)
bearings with long-term heat treatments for polluted environments: agricultural applications and construction equipment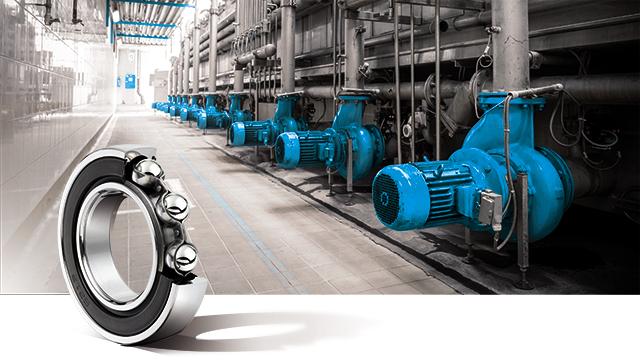 ULTAGE® SPHERICAL ROLLER BEARINGS for every industrial application
Able to use the ULTAGE® label, NTN-SNR spherical roller bearings offer exceptional performance. By their design and their manufacturing process, they demonstrate  reliability and are used as a benchmark on the following markets: 
mining and quarrying as well as cement 
steel industry
gearboxes
wind energy
pulp and paper industry
rail transport
construction machines: construction of roads, graders…
elevators: the Sealed series with the low noise option is perfectly suited to this application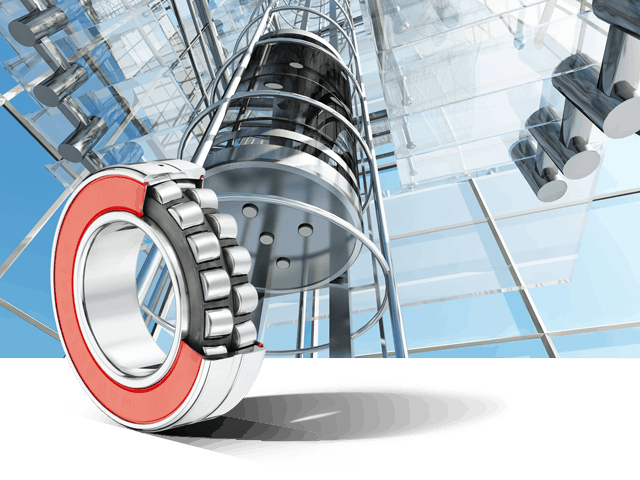 Applications of cylindrical roller bearings
Cylindrical roller bearings (CRBs) are used in countless industrial applications, such as reduction gears for robots or rail pieces of machinery, gear motors for fixed pieces of machinery, gearboxes for mobile equipment, and speed multipliers for wind turbines. Designed to support high radial loads, they can also withstand axial loads if they feature shoulders on their inner and outer rings.
Two categories are available: 
with a cage: high accelerations, high rotation speeds and high radial loads
without a cage: the maximum quantity of rollers is used, and the supported loads are higher than CRBs with cages, however the rotation speed will be moderate
Focus on our range of cylindrical roller bearings:
Bearing types:

1 row: NU, NJ, NUP, N, NF, NH, NJV, NFV
2 rows: NNU, NN, SL
4 rows: 4R

Dimensions: bore diameter from 20mm to 1250 mm for the standard range and beyond for tailor-made range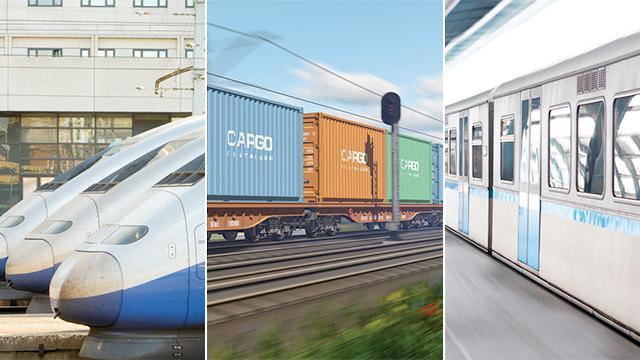 Bearings optimised for your machine tool
The range of extra precision bearings has been developed by NTN-SNR experts in close collaboration with some of the biggest names in machine tools. The benefit of the range?
Productivity: optimized production cost
Accuracy: high-quality machining
Reliability: reduced maintenance costs
Eco-design: environmental protection
The range features the ULTAGE® label, proof of its ultimate performance.
The essential supplier of cam rollers and needle roller bearings
The leader in Japan for needle roller bearings and second worldwide on the industrial market, NTN is an expert in needle roller bearings.
Our products are used by thousands of original equipment manufacturers around the world. This is proof of our expertise, our ability to support you and to develop personalized solutions in response to the most challenging applications.
Discover the features of our range:
A comprehensive range: from miniature bearings to bearings with a diameter of up to 400 mm, our range meets 95 % of market demand.
Product availability: thanks to our European stocks, we can guarantee shorter delivery lead times and quality service.
Reliability and optimal useful life: By opting for superior grades of steel combined with an ultra-compact, rigid design that withstands heavy axial loads, NTN offers bearings with a useful life up to 3 times longer than the standard.
Designed and manufactured in Japan, NTN guarantees consistently top-quality products.
Service and support: technical support, based in Europe, is available in your language. We can provide you with advice and customized research in order to meet all your needs.
NTN-SNR bearing housings, a range suitable for all applications
The range of NTN-SNR bearing housings increases operating safety and improves the ease of the operation of your equipment. Rigidity, stability, improved heat distribution, increased service life of your bearings, and longer maintenance intervals… These are the basic criteria that we take into account in our solutions.
Our response is tailored to suit the operating conditions, for example, limiting factors such as:
rotational speed 
type of loads
the need for precision operation
significant operating temperatures
pollution in the working environment
maintenance constraints
installation of monitoring units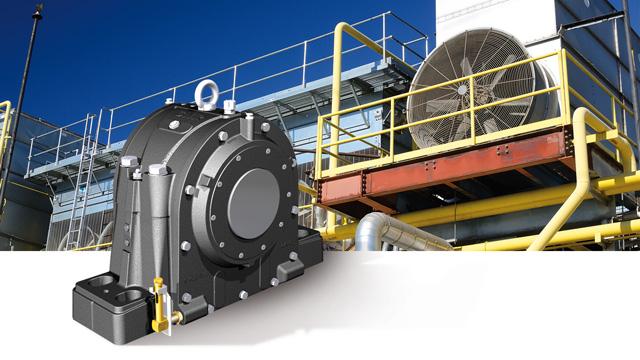 Self-aligning bearing units for every solution
Either with the existing range or the development of the specific product, NTN-SNR is able to provide a solution for all applications, to help you with: improving operational safety, improve the productivity of your machine…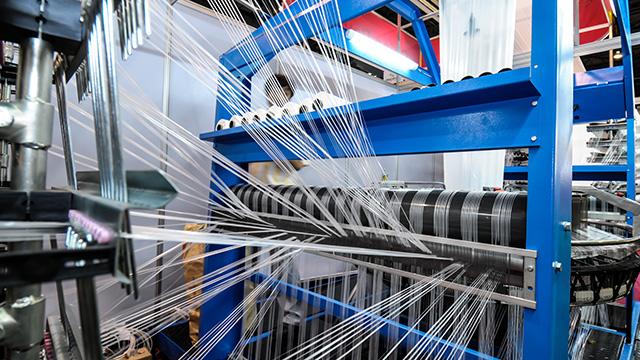 Self-align bearing units are particularly recommended for their suitability in the following applications and industries: 
handling and transport
agricultural and agri-food machines
protection of the local environment and preservation of critical locations
textile machines, fitness equipment, car washes
sawmills, woodworking machines
air conditioning and ventilation
packaging, paper, and cellulose processing
Find more products in China.
You can contact us any convenient way. We are available 24/7 via fax or email.

You can also use the quick contact form below or visit our office personally. Please email us with any questions or inquires or use our contact data. We would be happy to answer your questions.