KOYO
Here at TFL-Bearing, we offer the full range of KOYO products including ball, self-aligning, angular contact, cylindrical, needle, and spherical bearings at highly competitive prices which are available for same or next day delivery
Koyo is the JTEKT brand for Bearings. JTEKT engineering and manufacturing capabilities range from super large bearings with outer diameters of seven meters to miniature bearings with inner diameters as small as one millimeter. Utilizing new materials and the latest in manufacturing technology, JTEKT has developed hybrid ceramic bearings and a variety of extreme special environment bearings to meet the increasingly severe and demanding requirements of modern industries. JTEKT stands at the forefront, as a technological leader in the world-bearing industry.
JTEKT owns and operates eighteen bearings plants in seven countries and 6 R&D Technical Engineering Centers on three continents. Koyo offers innovative solutions to both original equipment manufacturers and aftermarket end-users focusing on key markets such as automotive, agriculture and construction, heavy industry (steel & windmill), gear, reducer, electric motor, and general machinery.
Koyo brand has established itself with automakers and industrial manufacturers around the world and has attained ISO/TS 16949 certification at all of our bearing manufacturing and sales facilities.
Key

KOYO

Bearings Products
TFL Bearings is the authorized distributor of KOYO bearing. KOYO is the leading manufacturer of almost all bearing types. TFL Bearings has the unique ability to support huge KOYO bearing products through our inventory location, dedicated bearing application engineering personnel, and experienced KOYO bearing sales team.
TFL Bearings can provide most of the bearing products in the KOYO Bearing catalog. If you need our help, we are happy for you, you can fill out our online form and bearing engineers exchange.
TFL Bearings Supports the full line of KOYO bearing products and specializes in the following.
JTEKT'S KOYO BRAND MANUFACTURES A LARGE RANGE OF DEEP GROOVE BALL BEARINGS
They are available in a variety of sizes and are the most popular of all rolling element bearings. This type of bearing supports radial and a certain degree of axial load in both directions.
Shielded/ Sealed type
The shielded or sealed deep groove ball bearings simplify the sealing structure of applications and are designed for use with a rotating inner ring. Greasing will not be necessary as these bearings are pre-lubricated.
Types with locating snap ring
Bearings with a locating snap ring can be fit into the housing easily, as the locating snap ring facilitates axial positioning.
Extra-small ball bearings and miniature ball bearings
Available as an open type, shielded/sealed type, and flanged type. The latter is easily positioned in the axial direction.
Maximum type ball bearings
These bearings are single-row deep groove ball bearings with a filling slot on both the inner and outer rings. They feature an enhanced radial load rating as they can contain more balls of larger diameter. Not suitable for applications that involve axial loading or high-speed rotation. When the bearing is installed, the filling slot on the fixed bearing ring should be in a no-load area.
Double Row Ball Bearings
Double row ball bearings accommodate larger load applications and are available in single/double seal versions. They are offered in a wide range of bearing selections.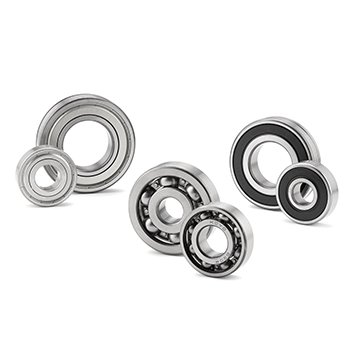 AVAILABLE AS SINGLE OR DOUBLE ROW, MATCHED PAIR, AND FOUR POINT CONTACT
Designed for high accuracy and excellent high-speed performance. Angular contact ball bearings are designed to carry combined loads: both axial and radial.
Angular contact bearings are designed such that a contact angle between the races and the balls is formed when the bearing is in use. The major design characteristic of this type of bearing is that one or both of the ring races have one shoulder relieved, or higher than the other. In order for these bearings to function properly, they must be assembled with a thrust load. This loading (or preload) creates a line of contact (or contact angle) between the inner race, the ball, and the outer race. The preload can be built into the bearing or created when the bearing is inserted into an assembly. The contact angle varies from 15° to 40° and is measured relative to a line running perpendicular to the bearing axis. Angular contact bearings are unidirectional thrust bearings that can withstand heavy thrust loads and moderate radial loads.
Bearing design for angular contact bearings can be one-directional thrust, double directional thrust, double row, double row maximum capacity angular, duplex thrust, and four-point contact.
Double row angular contact bearings can have a number of different styles of seals or shielding. Seals and shields provide protection from contamination and serve as a retainer for lubricant. Seals provide better protection and lubricant containment than shields but have lower maximum speed capabilities. The different types include single/double seals or single/double shields.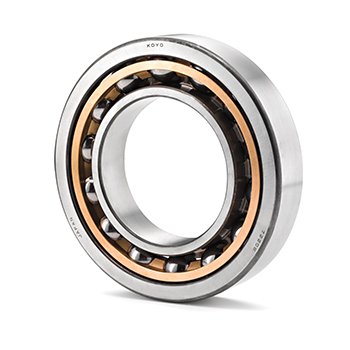 AVAILABLE IN SINGLE ROW OR MULTI-ROW CONFIGURATIONS
Tapered roller bearings consist of an inner ring (cone), an outer ring (cup), a cage, and rollers which are profiled to distribute the load evenly. They have high radial and axial (thrust) load capacities at low to intermediate speeds. Tapered roller bearings are available in single-row, two-row, and four-row designs. With single-row bearings, the thrust load capacity is about 60% of the radial capacity. Double-row bearings have a greater radial load capacity and can handle thrust loads in both directions. The rollers can be configured in such a way that the contact lines between the roller and the race converge or diverge towards the axis of rotation. Diverging double-row bearings increase the rigidity of the shaft mounting while converging bearings do not. Other configurations for double-row bearings feature a single outer ring and two inner rings, or two outer rings and a single inner ring. Four-row tapered roller bearings consist of four rows of alternating converging and diverging rollers.
Single-row tapered roller bearings
The single-row tapered roller bearings are able to carry radial and axial loads in one direction simultaneously. Because an axial component of force is produced when this type of bearing is loaded radially, two or more bearings are matched and used together.
Bearings whose cup width, cup smaller inside diameter, and contact angle are determined in accordance with ISO 355 specifications are identified by the supplementary code "J" as a suffix. Cone assemblies and the cups of such bearings are interchangeable with those of bearings produced abroad if the bearing numbers are the same.
Double-row tapered roller bearings
These bearings are divided into the TDO type which has one double cup and two single-row cones, and the TDI type which has two single-row cups and one double cone.
Both accommodate radial and axial loading in both directions. These two also carry moment loads; however, the TDO type is superior to the TDI type, because the distance between load centers is longer in the TDO type. The spacer of the TDO type, or the TDI type, pre-adjusts the internal clearance to provide proper operating clearance after mounting.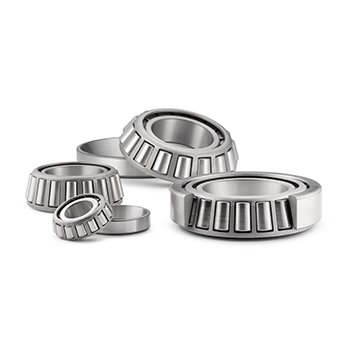 NEEDLE ROLLER BEARINGS
At JTEKT we offer an extensive range of premium quality Koyo metric and inch needle roller bearings.
Radial Needle Roller and Cage Assemblies
Drawn Cup Needle Roller Bearings
Drawn Cup Roller Clutches
Heavy-duty Needle Roller Bearings
Track Rollers
Thrust Bearings, Assemblies, Washers
Combined Needle Roller Bearings
Zero clearance ball and needle bearings for steering columns
Needle Rollers, pins
Seals
Radial Needle Roller and Cage Assemblies
Radial needle roller and cage assemblies have a steel cage that provides both inward and outward retention for the needle rollers. The sizes are ranging from 3 mm to 165 mm bore (0.1181 – 6.4961 inch).
The designs provide maximum cage strength consistent with the inherently high load ratings of needle roller bearings. Accurate guidance of the needle rollers by the cage bars is allowing these bearings to operate at high speeds. Also available are needle roller and cage assemblies using molded, one-piece glass-reinforced engineered polymer cages. Needle roller and cage assemblies are manufactured with either one or two rows of needle rollers.
Drawn Cup Needle Roller Bearings
Drawn cup needle roller bearings are available in 3 mm to 139.7 mm bore (0.1181 – 5.5000 inch). They support radial loads and reduce friction between rotating components, with a drawn outer shell serving as a raceway for the rollers. The small cross-section of the drawn cup bearing provides high load-carrying capability with the minimum required space. Drawn cup bearings are easily installed with a press fit in the housing.
The outer ring in the form of a cup is accurately drawn and no subsequent machining is performed to build the outer raceway. Drawn cup needle roller bearings are available in open ends or single, closed-end designs. They are also available with one or two integral seals. Other options include a single lubricating hole and a matching inner ring.
Drawn Cup Roller Clutches
Drawn cup roller clutches and bearing assemblies are available in 3.2 mm to 35 mm bore (0.1250 – 1.3780 inch). These bearings are designed to transmit torque between the shaft and housing in one direction and allow free overrun in the opposite direction. When transmitting torque, either the shaft or the housing can be the input member. These designs use the same small radial section as drawn cup needle roller bearings and are offered as clutch-only units or as clutch and bearing assemblies.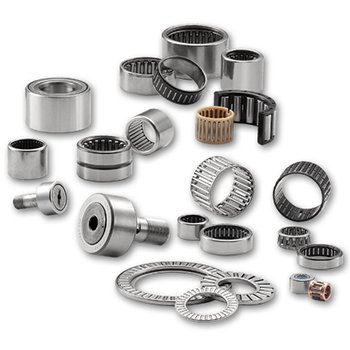 SPHERICAL ROLLER BEARINGS
Therefore, spherical roller bearings are suitable for low/medium speed applications which involve heavy or impact loading. They come with cylindrical or tapered bores and can be supplied with adapter assemblies as well as withdrawal sleeves. Bearings with a tapered bore can be fit and removed easily using an adapter assembly or withdrawal sleeve.
Spherical roller bearings are available as double-row, combination radial, and thrust bearings. They use a spherical or crowned roller as the rolling element. The race in the outer ring is spherical in shape, which allows for some misalignment of the shaft and the housing. The self-alignment feature accommodates up to 2 degrees of misalignment.
Spherical roller bearings are unequaled in their capacity for high loads and their tolerance to shock loads but have limited speed capabilities. They perform consistently, even under extreme conditions, such as application-specific stress and marginal lubrication. A machined bronze retainer is available which is ideal for higher speed operation and ensures better performance under marginal lubrication conditions.
These bearings are divided into R, RH(R), and RHA types, which differ in internal structure.
Asymmetrical roller design, which reduces sliding friction and has less tendency for roller skew while operating (R & RR types); this type uses two sets of convex asymmetrical rollers separated by a central inner ring rib.
Symmetrical roller design (RH & RHR types) with two rows of longer symmetrical rollers, pressed steel cage, and a center guide ring instead of a rib.
R and RH Type Spherical Roller Bearings are also available with lubrication holes and grooves, which optimizes lubricant capability.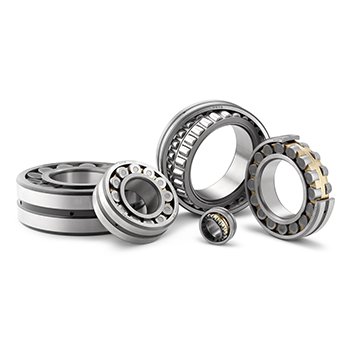 CYLINDRICAL ROLLER BEARINGS
Features include thrust collars, parallel or tapered bore, and lubrication holes and grooves. This type of bearing features high radial load capacity as the rollers and raceway are in linear contact. Our cylindrical bearings are equally suitable for heavy radial and impact loading.
Cylindrical roller bearings are characterized by high radial-, and moderate thrust-load capacities. They contain cylindrically-shaped roller, which is nevertheless not true cylinders. Instead, they are crowned or end-relieved to reduce stress concentrations. This particular geometry results in low friction and allows high-speed applications.
Single-row cylindrical roller bearings
The NU and N types exhibit their best performance when used as free side bearings since they adjust to the shaft's axial movement, to a certain extent, relative to the housing position. The NJ and NF types carry axial load in one direction, while the NUP and NH types can carry a certain degree of axial load in both directions. Type R cylindrical roller bearings feature enhanced load rating compared to standard series, though both have equal dimensions. This effect has been achieved thanks to a different interior design of type R bearings. They are identified by supplementary code "R".
Double-row cylindrical roller bearings
Double-row cylindrical roller bearings come in two types: with a cylindrical or a tapered bore. As for those with a tapered bore, the specified amount of clearance can be obtained by adjusting the press-in distance. Some bearings are fitted with lubrication holes and lubrication grooves on the outer ring. They are identified by supplementary code "W". These bearings can accommodate high radial loads, and are often used in machine tool spindles.
A machined bronze retainer maintains the proper distance between the rolling elements and is very effective for high-speed applications. It reduces vibration, has a quiet operation, and can accommodate heavy radial and impact loading. Another option is to have separable inner or outer rings. This simplifies the mounting and dismounting.
Full complement type cylindrical roller bearings for crane sheaves
Crane rope sheaves and running wheels which are operated at low or medium speed are generally equipped with full complement type cylindrical roller bearings because the operation of these machines involves heavy, impact loading. These bearings are divided into shielded and open types. The shielded type is often used with the outer ring rotation.
The shielded type was developed for use with rope sheaves. It is shielded, non-separable and pre-lubricated with grease. Bearings with locating snap rings around the outer ring can be positioned and fitted to sheaves with ease. The bearing surface is coated with phosphate for rust prevention.
Open type bearings are further divided into those used on the fixed side and those used on the free side. The former carry axial load in both directions. The relative position of the latter's inner ring and outer ring can be adjusted by moving them along the axis. Open type bearings are separable because the outer ring is divided into two annular pieces in a plane perpendicular to its axis. Triple-row and four-row roller bearings are available alongside double-row types.
FOUR-row cylindrical roller bearings
Rolling mill roll neck four-row cylindrical roller bearings are designed to achieve the maximum capacity in a limited space. The inner ring raceway surface and the roll can be finished simultaneously after the inner ring is mounted on the roll neck. This feature is useful in improving rolling mill accuracy.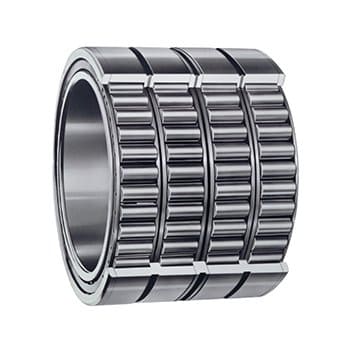 CERAMIC & SPECIAL ENVIRONMENT BEARINGS
These bearings have an optimal operation in extreme environments like clean rooms, vacuum, high temperature, corrosive environments, and contaminating conditions. They are already being used in an extensive range of applications and state-of-the-art technologies.
Ceramic bearings consist of components (rolling elements and rings) made from ceramic and can be used in applications where conventional bearings are not suited. They have special characteristics that steel bearings do not have such as being non-magnetic or insulating. Ceramic bearings are highly heat resistant, have a longer service life, and can be divided into Full Ceramic Bearings and Hybrid Ceramic Bearings. The components of our Full Ceramic Bearings are all made of ceramic. The Hybrid Ceramic Bearings have only the rolling elements made from ceramic. The outer and inner ring of the Hybrid Ceramic Bearing is made from special steel, including high carbon chromium bearing steel or stainless steel. Furthermore,, the cage can be made of metallic material, resin, or composite material depending on the intended operating conditions of the bearing.
CLEAN ENVIRONMENTS
Bearings made of stainless steel without rust preventive oil are perfectly suitable for operation in clean environments. This bearing can be used in combination with an amount of low particle emission type of lubricant based on the operating conditions such as temperature, load, and rotational speed. At JTEKT these special Koyo branded bearings are being lubricated with a Clean Pro coating or fluorinated grease. Fluorinated grease is superior to solid lubricants in load carrying capability and high-speed operation. This grease can be used in applications where a scattering of a slight amount of fluorinated oil is acceptable.
VACUUM ENVIRONMENTS
For a vacuum environment, JTEKT developed Koyo bearings from which the outer/inner rings and balls are made of martensitic stainless steel. For bearings that require corrosion resistance, precipitation hardening steel is used. When high-temperature resistance is required high-speed tool steel can be used. Vacuum environments where cleanliness is critical, bearings have to be clean, and polymeric lubricating material or fluorinated grease should be used.
HIGH TEMPERATURE ENVIRONMENTS
Hybrid Ceramic bearings can be used for high-temperature applications. The rings of these bearings are made of highly heat resistant high-speed tool steel and the balls are made of ceramic. The use of a lubrication type can be decided based on the temperature:
Up to 200 degrees Celsius, fluorinated grease can be used
Over 200 degrees Celsius, layer lattice material can be used
Over 500 degrees Celsius, an un-lubricated full ceramic bearing should be used
CORROSIVE ENVIRONMENTS
Bearings that need to operate efficiently in corrosive circumstances are made of special materials. The selection of a Koyo Ceramic bearing for use in a highly corrosive environment should be examined very carefully.
Below are some examples:
Corrosion Resistant Hybrid Ceramic Bearings: These are suitable for applications that run in water, alkaline environments, or reactive gas.
Ceramic Bearings: are suitable for applications that have to run in a slightly acidic or alkaline environment or in reactive gas environments.
Corrosion Resistant Ceramic Bearings: These are suitable for applications that have to run in a very strong acidic and alkaline environment or in reactive gas environments.
High Corrosion Resistant Ceramic Bearings: These are suitable for applications that have to run in a very strong acidic or alkaline environment or in corrosive gas environments.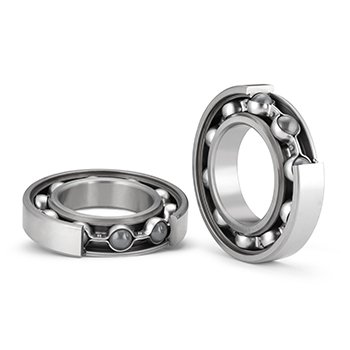 Find more products in China.
You can contact us any convenient way. We are available 24/7 via fax or email.

You can also use the quick contact form below or visit our office personally. Please email us with any questions or inquires or use our contact data. We would be happy to answer your questions.