NACHI
Here at TFL-Bearing, we offer the full range of NACHI products including ball, self-aligning, angular contact, cylindrical, needle, and spherical bearings at highly competitive prices which are available for same or next day delivery
ABOUT

NACHI
Since 1939, NACHI has been developing rolling bearings with the highest caliber.
Every production step is carried out and controlled in NACHI's own factory, from the steel plant and heat treatment to processing parts and the assembly of bearings.
Today, NACHI provides a wide range of ball bearings, roller bearings, spherical roller bearings, and precision roller bearings for the general machinery, agriculture, transmission, fluid, aerospace, and demanding automotive industries.
Today, Nachi-Fujikoshi has consolidated its position among the world's largest bearing manufacturers by combining the capabilities it has acquired as a technology company with its experience, knowledge, and skills in special steel.
Nachi-Fujikoshi was founded by Kohki Imura in Toyama, Japan in 1928 to produce special steel and cutting tools. In 1939, using its skills in steel and steel processing, began to produce bearings. Nachi-Fujikoshi is not only a manufacturing company but also a technology company. Because of this feature, it entered the bearing production market late; it became the first domestic manufacturer of spherical roller bearings in Japan in 1941. Therefore, it has taken a place among market leaders.
To provide international services, the headquarters was moved from Toyama to Tokyo in 1956. As a technology company, Nachi-Fujikoshi has created solutions to support users at every step of its application, from raw material processing to final product transportation. In this context, Nachi-Fujikoshi began production of turning/milling in 1939, hydraulic equipment in 1958, and robots in 1970. He looks at production from a broad perspective and has a clear understanding of each stage of production. This fact is reflected in the excellent quality of his products.
Key

NACHI

Bearings Products
TFL Bearings is the authorized distributor of NACHI bearing. NACHI is the leading manufacturer of almost all bearing types. TFL Bearings has the unique ability to support huge NACHI bearing products through our inventory location, dedicated bearing application engineering personnel, and experienced NACHI bearing sales team.
TFL Bearings can provide most of the bearing products in the NACHI Bearing catalog. If you need our help, we are happy for you, you can fill out our online form and bearing engineers exchange.
TFL Bearings Supports the full line of NACHI bearing products and specializes in the following.
NACHI Deep Groove Ball Bearings
Deep Groove ball bearings are the most popular of all the ball bearing types because they are available in a wide variety of seal, shield, and snap-ring arrangements. The bearing ring grooves are circular arcs made slightly larger than the radius of the ball.
The balls make point contact with the raceways (elliptical contact when loaded). The inner ring shoulders are of equal height (as the outer ring shoulders). Deep Groove ball bearings can sustain radial, axial, or composite loads and because of simple design, this bearing type can be produced to provide both high-running accuracy and high-speed operation. Standard ball retainers (cages) are made from pressed steel. Machined cages are used in bearing operation at very high speed or for large diameter bearings.
Deep Groove ball bearings with seals or shields are standardized. They contain the proper amount of grease in advance.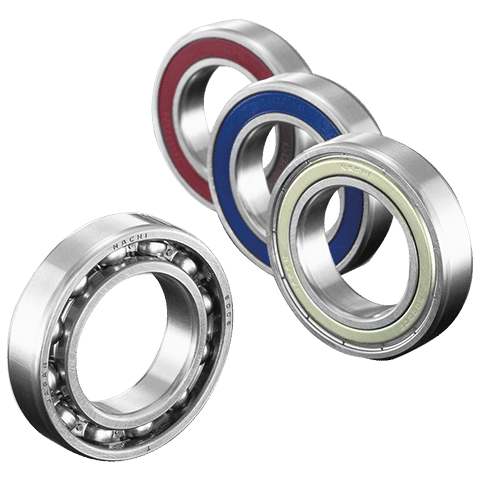 NACHI Self-aligning Ball Bearings
This type is constructed with the inner ring and ball assembly contained within an outer ring which has a spherical raceway. Due to the construction, this bearing type will tolerate a small angular misalignment from deflection or mounting error. Self-aligning ball bearings are suitable for long shafts where accurate positioning of housing bores is difficult. This type is often used in conjunction with pillow blocks. Cages are made from pressed steel or polyamide resin. This bearing should only be used in light axial load applications due to the small axial support of the rolling elements by the outer ring raceway.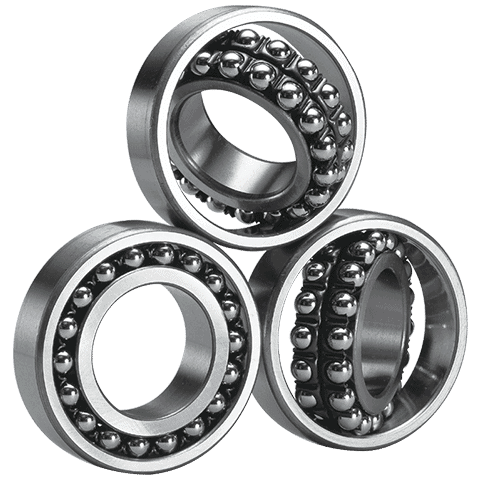 NACHI Angular Contact Ball Bearings
The raceways of both the inner and outer rings of this bearing type are made with a set contact angle.
These bearings are non-separable. Since the balls are inserted utilizing counter-bore construction, a larger number of balls can be installed than in the case of Deep Groove ball bearings.
Standard cage materials may be pressed steel, high-strength brass, or polyamide. Cage materials are dependant on the bearing series and or service condition. Single-row Angular Contact ball bearings can sustain radial, axial or composite loads, however, any axial load must be in one direction. This bearing type is generally used in pairs to handle the induced load resulting from the internal axial force generated by the applied radial load. When mounting two single bearings in adjacent positions, NACHI provides these combination parts (pairs) with preadjusted clearance. Paired combination bearings are matched sets. Combination or paired bearings can be arranged BACK-TO-BACK (DB), FACE-TO-FACE(DF), or in TANDEM (DT). DB or DF sets can sustain bidirectional axial loads.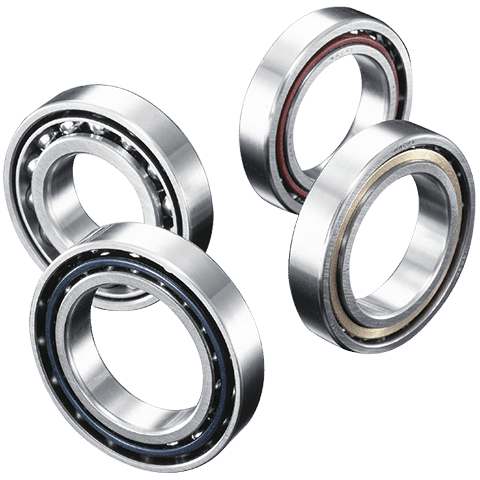 NACHI Precision Bearings
Ball screws are precision components that convert a rotation into a rotary movement into a linear movement (or vice versa)。 They are increasingly popular in robot technology, machine tool construction, and measuring device technology。
The axial angular contact ball bearings, which are manufactured for all dimensions of ball screw drives, are particularly easy to assemble with their adjustable preload The contact angle of these bearings is 60 °。 A large number of balls makes these bearings very rigid。
Flush ground set combination
(Universal matching)
Flush ground set combination bearings are also available with suffix U. This permits the use of random combinations where two or more bearings are mounted.
This type is used for supporting the ball screws that are used as actuators of high precision and high machines, precision measurement equipment, robots, etc. This is a precision and high-ability bearing.
Feature design:
High stiffness
These bearings are designed with polyamide cages and a greater number of balls than conventional angular contact ball bearings. For these reasons, bearing stiffness is greater than conventional bearings.
Easy fitting and adjustment
These bearings are supplied with a pre-set preload so difficult adjustment and torque measurement are eliminated.
The simplified bearing mounting structure
These bearings are supplied with a 60° contact angle so radial and thrust load combinations can be sustained. This results in a simplified and compact shaft and housing design.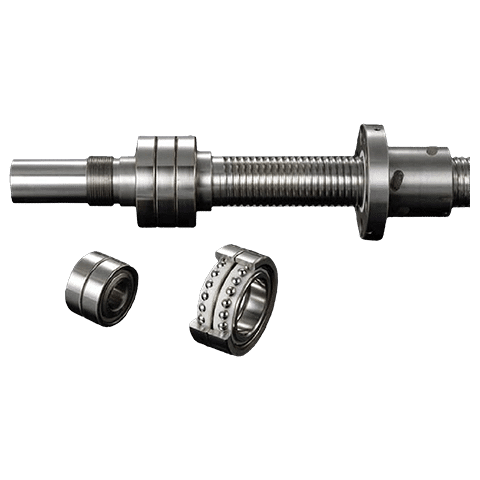 NACHI Cylindrical Roller Bearings
Construction of this roller bearing type is the simplest of all radial roller bearings. This bearing type is often used in high-speed applications. Because the inner ring, outer ring, and rollers are in line contact, this bearing type has a large radial load capacity. Various Cylindrical roller bearing configurations are:
N,NJ,NF,NU,RNU: integral ribs (flanges)
NH,NP;NUP;NUH: integral and loose ribs
NN,NNU: double-row bearings
Configurations having integral flanges or loose ribs on both the inner and outer rings can sustain a small amount of axial load. Since this bearing type supports axial loads as sliding action between the end of the rollers and flange faces, axial loading is Limited. Double-row Cylindrical roller bearings are used for high-speed, high-accuracy applications such as; main spindle support for lathes, milling machines, machining centers.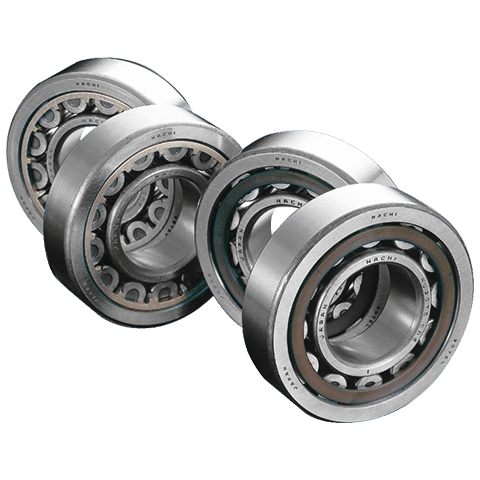 NACHI Sheave Bearings
CYLINDRICAL ROLLER BEARINGS WITH SNAP RING GROOVES
Basic Design: Full complement. Double row. Sealed on both sides
Highest dynamic & static load ratings: Maximum utilization of bearing section provides maximum load ratings.
Superior sealing capability: Unique design rubber contact seal prevents dust & water invasion.
Location: Easy to locate axially due to snap rings on both sides.
Lubrication: Lubricate with a lithium soap-based grease containing an EP additive.
Relubrication: Lubricate through lubrication hole & grooves only in the inner ring.
Operating temperature: Suitable for -30 to +120°C
Application: Highly suitable in rope sheave
TECHNICAL INFORMATION:
Comparison table
| | | |
| --- | --- | --- |
| NACHI | INA | SKF |
| E5006X NNTS1 | SL04 5006 PP | NNF5006 ADA-2LSV |
| E5007X NNTS1 | SL04 5007 PP | NNF5007 ADA-2LSV |
| E5008X NNTS1 | SL04 5008 PP | NNF5008 ADA-2LSV |
| E5009X NNTS1 | SL04 5009 PP | NNF5009 ADA-2LSV |
| E5010X NNTS1 | SL04 5010 PP | NNF5010 ADA-2LSV |
| E5011X NNTS1 | SL04 5011 PP | NNF5011 ADA-2LSV |
| E5012X NNTS1 | SL04 5012 PP | NNF5012 ADA-2LSV |
| E5013X NNTS1 | SL04 5013 PP | NNF5013 ADA-2LSV |
| E5014X NNTS1 | SL04 5014 PP | NNF5014 ADA-2LSV |
| E5015X NNTS1 | SL04 5015 PP | NNF5015 ADA-2LSV |
| E5016X NNTS1 | SL04 5016 PP | NNF5016 ADA-2LSV |
| E5017X NNTS1 | SL04 5017 PP | NNF5017 ADA-2LSV |
| E5018X NNTS1 | SL04 5018 PP | NNF5018 ADA-2LSV |
| E5019X NNTS1 | SL04 5019 PP | NNF5019 ADA-2LSV |
| E5020X NNTS1 | SL04 5020 PP | NNF5020 ADA-2LSV |
| E5022X NNTS1 | SL04 5022 PP | NNF5022 ADA-2LSV |
| E5024X NNTS1 | SL04 5024 PP | NNF5024 ADA-2LSV |
| E5026X NNTS1 | SL04 5026 PP | NNF5026 ADA-2LSV |
| E5028X NNTS1 | SL04 5028 PP | NNF5028 ADA-2LSV |
| E5030X NNTS1 | SL04 5030 PP | NNF5030 ADA-2LSV |
| E5032X NNTS1 | SL04 5032 PP | NNF5032 ADA-2LSV |
| E5034X NNTS1 | SL04 5034 PP | NNF5034 ADA-2LSV |
| E5036X NNTS1 | SL04 5036 PP | NNF5036 ADA-2LSV |
| E5038X NNTS1 | SL04 5038 PP | NNF5038 ADA-2LSV |
| E5040X NNTS1 | SL04 5040 PP | NNF5040 ADA-2LSV |
| E5044X NNTS1 | SL04 5044 PP | NNF5044 ADA-2LSV |
| E5048X NNTS1 | SL04 5048 PP | NNF5048 ADA-2LSV |
| E5052X NNTS1 | SL04 5052 PP | NNF5052 ADA-2LSV |
| E5056X NNTS1 | SL04 5056 PP | NNF5066 ADA-2LSV |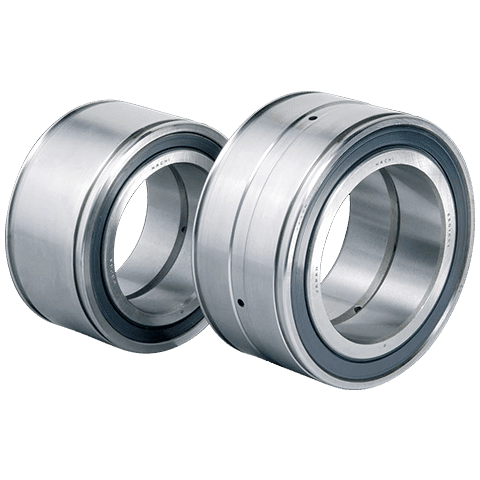 NACHI Tapered Roller Bearings
The inner and outer ring raceways and rollers of this type of bearing are made with a taper so that the planes of the surfaces of the raceways and roller axis meet at a point. The rollers are guided by the cone (inner ring) back-face rib. A single-row Tapered roller bearing can support a combined radial and axial load. If either a radial load or bi-directional axial load is to be carried, a pair of bearings must be used in a "face-to-face" or "back-to-back" mounting.
Tapered roller bearings are separable into the components: outer ring, inner ring, and roller assembly. The non-separable inner ring and roller assembly are called the "cone", and the outer ring is called the "cup". Internal clearance is established during mounting by the axial positioning of the cone relative to the cup. This bearing type can be used in a preload situation to obtain higher rigidity and better running accuracy of the shaft.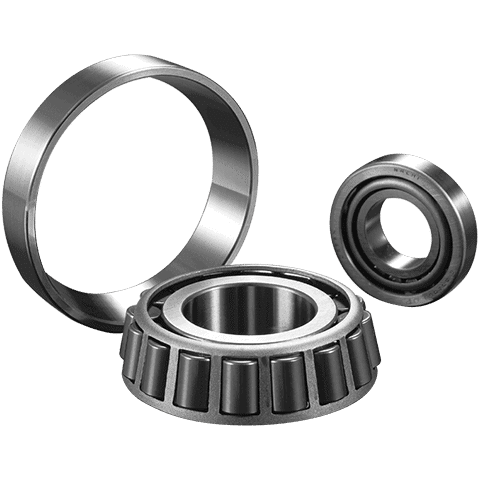 NACHI Spherical Roller Bearings
NACHI double-row Spherical roller bearings are available in bore sizes from 25mm to over 1000mm.
The raceways in the outer ring of this type of bearing are designed with a spherical surface whose center coincides with the bearing center. NACHI Spherical roller bearings are of an improved design having a modified line contact between the raceways and rollers. This construction enables very high radial and impact-load capacity.
This bearing type can carry a moderately high level of bidirectional axial load and is self-aligning. This type is used extensively for large machines where shaft deflection or mounting error may occur.
Spherical roller bearings are used for paper mill equipment, rolling machines, rolling stock, shaker screens, and general industrial machinery. The mounting and dismounting of Spherical roller bearings are facilitated through the use of tapered-bore bearings in conjunction with tapered journals, or adapters or withdrawal sleeves. Internal clearance can also be precisely set using a tapered bore bearing.
Pressed steel cages are used for Smallbore bearings and machined, high-strength brass or mild-steel cages are used for bearings with larger bores.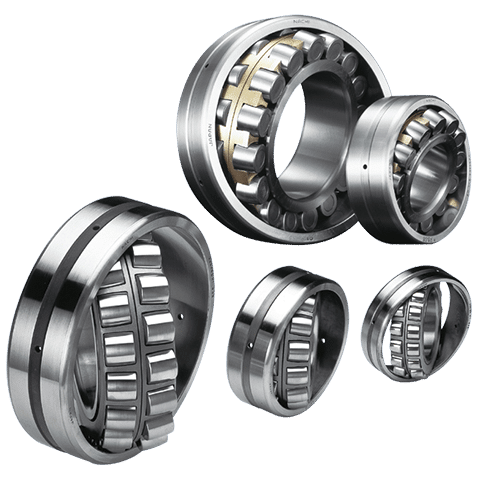 NACHI Spherical Roller Thrust Bearings
The raceway of the housing washer of this bearing type is spherical with the center of the radius located on the bearing axis. The design provides the self-alignment capability to the bearing. The Contact angle is approximately 45° enabling the bearing to support the axial load and a small to moderate amount of radial load. NACHI Spherical Roller Thrust bearings can sustain high loads at low-to-moderate speeds.
Because of the large load capacity and self-aligning characteristics, this bearing type is often used for injection molding machines, crane hooks, and other large machines. Cages are made from machined, high-strength brass or pressed steel.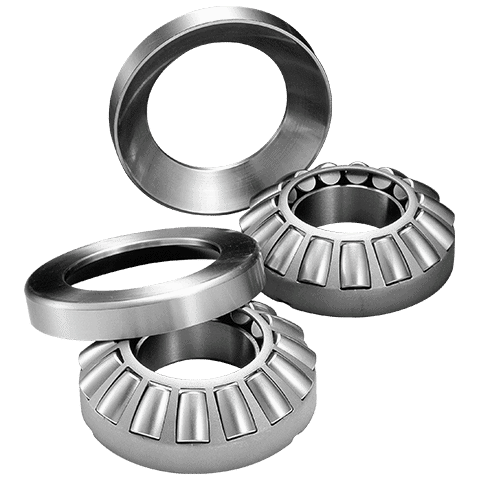 NACHI Thrust Ball Bearings
Thrust ball bearings can handle axial loads only. Bearing rings mounted on the shaft are called shaft washers, and those mounted in the bearing housing are called housing washers. Both washers contain grooves for the balls. Thrust Ball bearings are of two types: single type which can support axial loads in only one direction and double type that can support bi-directional loads.
The central washer of double-type thrust ball bearing is located in an axial direction by a shaft shoulder and sleeve. Thrust Ball bearings are not suitable for high-speed rotation since lubricant is expelled by centrifugal force. When used on a horizontal shaft, a minimum axial load must be applied. Pressed steel plate, polyamide resin, machined high-strength brass, or mild steel are used for cages. Care must be taken in handling to prevent damage to the separable rings and ball assembly.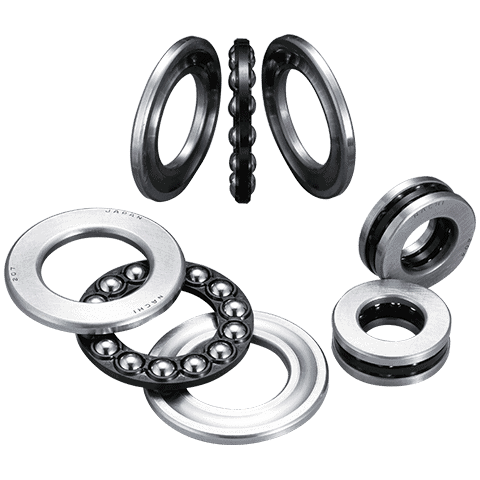 NACHI Ball Bearing Units
Ball Bearing Units offer a convenient method of applying highly reliable rolling contact bearings to applications without the necessity of manufacturing a bearing housing.
Generally, Ball Bearing Units have the following features:
Self-aligning capability
Sealed
Easy to mount and dismount
Interchangeability with foreign-made units
Many types suitable for applications Additionally
NACHI Ball Bearing Units have the advantages of easy to use and highly reliable.
Anti-rotation pin on the outer ring
Eccentric collar type is also available
The base for mount locating pin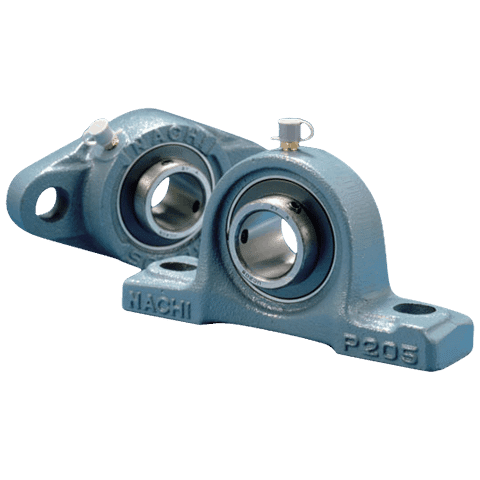 Find more products in China.
You can contact us any convenient way. We are available 24/7 via fax or email.

You can also use the quick contact form below or visit our office personally. Please email us with any questions or inquires or use our contact data. We would be happy to answer your questions.