RBC
Here at TFL-Bearing, we provide a full range of RBC brand products at a very competitive price, including high-quality needle roller bearings, cross roller bearings, thrust bearings, roller bearings, ball linear motion rolling guides, roller rolling Guide rails, linear motion rolling guides, precision positioning tables, and machine parts. Most products can be shipped the same day or the next day.
ABOUT

RBC
RBC Bearings trade names/divisions: Nice (ball bearings), Heim Bearings, Tyson Bearings, Luberon, Spherco, PIC Design, QuadLube, ImpactTuff, SpredLock Seal, CrossLube, DuraLube, FiberGlide, Pitchlign, Tandem Roller, HexLube, Unable.
RBC Bearings is a company manufacturing and marketing engineered precision bearings and components. It operates in four segments: Plain Bearings, Roller Bearings, Ball Bearings, and Engineered Products. The Plain Bearings segment produces plain bearings with self-lubricating or metal-to-metal designs, including rod end bearings, plain spherical bearings, and journal bearings. The Roller Bearings segment offers heavy-duty needle roller bearings with inner rings, tapered roller bearings, track rollers, and aircraft roller bearings. The Ball Bearings segment manufactures high precision aerospace, airframe control, thin section, and commercial ball bearings. The Engineered Products segment offers engineered hydraulics and valves for aircraft and submarine applications, aerospace and defense aftermarket services, fasteners, precision mechanical components, and machine tool collets.
Key RBC Bearings Products
TFL Bearings is the authorized distributor of RBC bearings. TFL Bearings has the unique ability to support huge RBC bearing products through our inventory location, dedicated bearing application engineering personnel, and experienced RBC bearing sales team.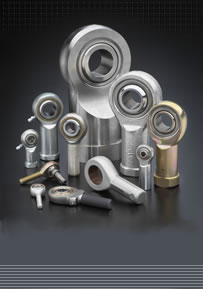 ROD ENDS
The first integral rod end was invented by an RBC division named Heim Bearings. The rod end is also referred to as the Heim Joint, named after the inventor Lewis Heim who founded the Heim Bearing Company. While plain spherical bearings offer misalignment capability in a fixed housing position, rod ends offer ease in mounting and adjusting position in installations such as mechanisms, linkages, and control rods. Rod ends also provide a compact, lightweight, economical design alternative to a conventional housing installation. Today, rod ends or Heim joints can be found throughout the industry in aircraft, helicopters, jet engines, military vehicles, submarines and surface ships, transportation equipment, agricultural and recreational vehicles, lawn and garden equipment, material handling, and fluid power applications.
Heim Bearings Company offers the industry's most comprehensive selection of rod end types and sizes. Our product range includes Heim rod ends with brass race inserts in standard, precision, and high capacity designs; high strength two-piece designs; self-lubricating rod ends with engineered thermoplastic races or high-performance Teflon® liners, military standard rod ends for the ultimate in rod end performance, ball bearing rod ends which have extremely low friction and misalignment capability, and elastomeric bearing rod ends that reduce vibration and noise in installations. Heim rod ends are also available with various platings, coatings, and materials and a wide range of optional features such as lubrication fittings, left-hand threads, and keyway slots. Rod ends are available in both inch and metric sizes.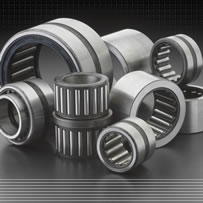 HEAVY-DUTY NEEDLE ROLLER BEARINGS
RBC produces an extensive heavy-duty needle roller bearing product line from 1-inch outer ring diameter to 12 ¼ inches outer ring diameter. RBC can manufacture unique designs up to a 39-inch outer diameter.
The RBC SJ series of Pitchlign® heavy duty needle roller bearings are supplied in standard envelopes in both sealed and unsealed configurations. There are eight possible seal configurations. The seals can include double or single seals with the seal lip turned inward or outward. The seal can be mounted in the radius end of the ring or the chamfered end of the ring for optimum mounting variations.
RBC's patented TJ TandemRoller® heavy duty needle roller bearings increase the capacity of the standard Pitchlign® SJ series from 10% to 40% while maintaining the standard SJ envelope dimensions. The TJ design gives the heavy-duty needle roller bearing 37% to 200% greater life over a standard single-pocket bearing. These bearings are also available in sealed and unsealed configurations.
RBC heavy-duty needle roller bearings present a wide variety of designs. The TJ TandemRoller® and Pitchlign SJ Series heavy duty needle roller bearings are offered in a double-row design. The TJ and SJ roller bearings can also be matched with an inner ring or run directly on a shaft. RBC inner rings can be used separately or as an inner race for complimentary SJ or TJ roller bearings. The inner rings range are through the hardened and precision ground.
The RBC SJ and TJ heavy-duty needle roller bearing designs are easy to install and are especially beneficial in compact designs because of their high load capacity and small sectional height. The caged rollers allow the RBC heavy-duty needle roller bearings to be used in high-speed applications.
RBC produces metric heavy-duty needle roller bearings where volume permits and specially engineered solutions to customer issues. Please get in touch with RBC for your metric needs and engineering problems.
RBC heavy duty needle roller bearings can be found in the following applications:
Gear pumps
Mud pumps
Oil field pumping jacks
Helicopter rotors and transmissions
Telehandlers
Material handling equipment
Hydraulic pumps
Sheave Blocks
Hoist drum shaft
Marine crankshafts and connecting rods
Pipe handling tables in steel mill equipment
Paper punch presses
Planet gears and main shaft bearings of a clutch drive or mechanical press
Calendar rolls in textile machinery
Railroad tampering equipment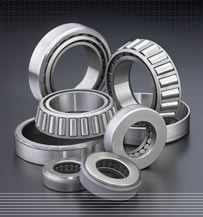 TAPERED ROLLER BEARINGS & TAPERED THRUST BEARINGS
Tyson Tapered Roller Bearings are used in some of the most critical applications known to the industry. They address operating conditions with both radial and axial loads.
The degree of safety demanded in the transportation industry surpasses all other standards. The importance of having the bearings perform is imperative to the safety of others. Regardless of whether the application is rail, truck, or aircraft, Tyson Roller bearings are designed to meet or exceed the expectations of its users.
 Tyson Tapered Roller bearings have the following features:
Logarithmic profile to ensure more uniformed stress distribution under medium and heavy loads
Precision finish for proper lubrication flow
Case carburized bearing quality steel to absorb shock loads standard in transportation and heavy industrial applications
RBC TAPERED THRUST BEARINGS
RBC Tapered Thrust Bearings are used in applications where heavy loads are present. RBC Tapered Thrust Bearings offer:
Sealed versions where lubrication is problematic or space constraints do not offer the luxury of a shaft seal
Unsealed versions available
Case carburized quality bearing steel
Size ranges from 1 inch to 3 inches bore diameters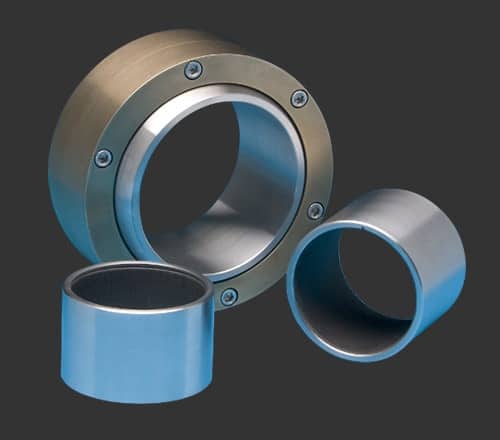 LUBRON BEARINGS
Lubron self-lubricating bearings are designed and manufactured in a wide range of sizes, materials, and configurations. Applications include hydropower and water control, nuclear power generation, infrastructure, architecture, offshore marine, industrial, machinery, and heavy equipment.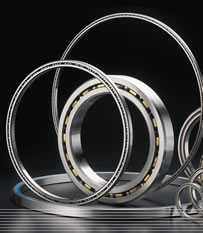 THIN SECTION BALL BEARINGS
RBC thin section ball bearings are most often found where space limitations, combined loading, and weight restrictions pose unique design requirements. A bearing is considered a thin section when the bore diameter is more significant than four times the radial cross-section. Within any thin section ball bearing series, the cross-section remains constant as the bore diameter changes. Typically the cross-section is twice the ball diameter, and nominal dimensions are given in inches.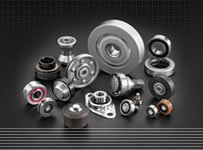 NICE BALL BEARINGS
RBC NICE produces a complete line of precision ground, semi-ground, and unground ball bearings and bearing assemblies. The standard NICE line of inch-dimension bearings includes radial, angular contact, and thrust types customized with unique bores, modified outer ring shapes, extended inner rings, locking devices, and flanged housings. They are available in sealed, shielded, or open designs and are recommended for medium loads with speeds up to 5000 rpm.
If you are uncertain as to which of RBC's NICE® Ball Bearings, Inc. is best suited for your design application, check with our selection guide. To view an entire product series, select a product from the list that follows.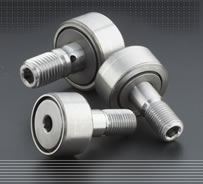 CAM FOLLOWERS
RBC produces an extensive cam follower product line from 1/2 in. to 10 in. roller OD Standard stud, heavy stud, and yoke types are made in sealed and unsealed configurations. The caged SRF roller is popular in applications requiring oil bath lubrication, high speed, or greased applications for life.
RBC Roller – A long-life cam follower for use in applications that cannot be compromised, offers a 400% life improvement over needle-bearing cam follower designs.
HexLube – A stud-type cam follower equipped with a grease fitting installed in the roller ends to permit relubrication.
CamCentric – A cam follower that allows the user to adjust the height at which it rides along the track.
RBC produces a full line of cam followers from 1/2 to 10 inch outside diameter sizes. Technical innovation and cost-saving features have distinguished RBC cam followers from competitors. Contact RBC engineers for assistance in solving difficult bearing challenges in your application.
RBC Roller Cam Follower
Cam Followers
Crowned Cam Followers Standard Stud Series
Cam-Centric Adjustable Cam Followers
Cam Followers – Heavy Stud
Crowned Cam Followers – Heavy Stud
Yoke Rollers – Cylindrical and Crowned O.D.
Pitchlign Caged Roller Followers
Precision Ground Inner Rings
Airframe Needle Roller Bearings
Airframe Track Rollers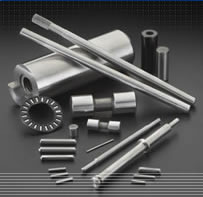 PINS, ROLLERS, SHAFTS
RBC manufactures rollers, pins, and shafts in a large variety of configurations and materials.
Precision Ground Steel and Stainless Steel Pins, Rollers, and Shafts
Knurls, Grooves, Trunnions, Undercuts, Plating, and Coatings
End Types – Spherical, Flat with Corner Break, Ground, Chamfer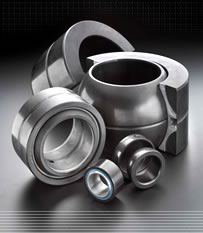 SPHERICAL PLAIN BEARINGS
RBC has been a pioneer in spherical bearing technology since inventing the fractured outer race design over 40 years ago.
Since that time, RBC has continued to introduce industry-leading innovations such as high misalignment, angular contact, extended inner ring, tapered bore, case-carburized, and enhanced lubrication groove spherical bearing designs. These advanced products are used in pivoting, high load-bearing applications where angular misalignment is required. Most typically, RBC spherical plain bearings are employed in hydraulic cylinder rod ends, vehicle steering linkage suspensions, heavy equipment articulated joints, and other severe duty use.
To access critical dimensions and data for your design questions, use the Search By Criteria section below. If you are uncertain as to which of RBC's Spherical Plain Bearings is best suited for your design application, check with our selection guide. To view an entire product series, select a product from the table of contents.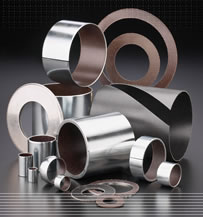 SELF-LUBRICATING BEARINGS – FIBER GLIDE
RBC Bearings' patented Fiberglide and Fabroid technology is a self-lubricating liner system for standard inch and metric bearings in the journal, thrust, and spherical configurations. These maintenance-free bearing products are suited for applications where normal lubrication is difficult or costly. Fiberglide/Fibroid products can also be used where non-lubricating fluids might be present.
To view an entire product series, select a product from the table of contents.
Find more products in China.
You can contact us any convenient way. We are available 24/7 via fax or email.

You can also use the quick contact form below or visit our office personally. Please email us with any questions or inquires or use our contact data. We would be happy to answer your questions.