6800-V Series Deep Groove Ball Bearings (Full Complement Ball Set)
full complement ball system design: higher radial load capacity than comparable deep groove ball bearings with cage
high impact resistance and rigidity due to a larger number of rolling elements
thin section bearing with very thin, square cross-section
suitable for space-saving installation in radial and axial directions
suitable for very high speeds compared to deep groove ball bearings with a larger cross-section
extra light series with compact dimensions and low weight
offers high running accuracy and quiet running
suitable for radial loads and light axial loads in both directions
seal: contact lip seal on both sides made of rubber (2RS) for high sealing effect
the good fixed bearing property, but can also be used as a floating bearing, each in both directions
| Bearing number | Bore Diameter (d) | Outer Diameter (D) | Width (B) | Seal | Internal Clear-ance | Ring Material |
| --- | --- | --- | --- | --- | --- | --- |
| 6800-V-2RS | 10 | 19 | 5 | 2RS | Chrome Steel | Chrome Steel |
| 6801-V-2RS | 12 | 21 | 5 | 2RS | Chrome Steel | Chrome Steel |
| 6802-V-2RS | 15 | 24 | 5 | 2RS | Chrome Steel | Chrome Steel |
| 6803-V-2RS | 17 | 26 | 5 | 2RS | Chrome Steel | Chrome Steel |
| 6804-V-2RS | 20 | 32 | 7 | 2RS | Chrome Steel | Chrome Steel |
| 6805-V-2RS | 25 | 37 | 7 | 2RS | Chrome Steel | Chrome Steel |
| 6806-V-2RS | 30 | 42 | 7 | 2RS | Chrome Steel | Chrome Steel |
| 6807-V-2RS | 35 | 47 | 7 | 2RS | Chrome Steel | Chrome Steel |
Special feature of this series
Main dimensions according to DIN 625-1. Thin section bearings of the 68-V series have a full complement ball set and no cage. Due to the greatest possible quantity of balls, they can thus be loaded higher than similar miniature deep groove ball bearings with a cage. They still have smaller dimensions than thin section bearings of the 69 series with their ultrathin, square cross-section at the same inside diameter. In comparison to their inside diameter they have an extremely small outside diameter – and furthermore – they are extremely narrow. Relatively high shaft- and axis diameters can thereby be installed at an also extremely confined installation space.
Rubber seals (RS/2RS) have the optimum sealing action with increased friction. Metal seals (Z/ZZ) are suitable for higher speeds, but they have a limited sealing action as they seal contactless. Open, seal-less bearings are suitable for extremely high speeds and – furthermore – they can be regreased more easily. However, they are more susceptible to soiling.
Manufacturers of bearings: such as FAG, KOYO, NSK, SKF, SNR, etc. assign different suffixes for their characteristics, for better orientation take note of the comparison table of bearings (see further information)
Can be customized to meet your specific needs.
The deep groove ball bearing 6800-V-2RS is narrow and can also be used with limited space. Due to the maximum number of rolling elements, it is marked with the addition MAX (= maximum). Main dimensions according to DIN 625-1.
Other options: Metal shield (ZZ) or rubber seal (2RS) can be provided.

Deep Groove Ball Bearings are able to accommodate low to heavy radial loads and low to moderate thrust loads in either direction. They are available with metal shields (ZZ) or rubber seals (2RS). Several tolerance grades (Abec 1-9), internal clearance (C2 to C4) and cage designs are available to best suit the running precision and speed of the application.
Common Options:
ZZ– Two Metal Shields
2RS– Two Rubber Seals
NR– Snap Ring
M– Brass Cage
C0– Normal Internal Clearance
C3– Greater than normal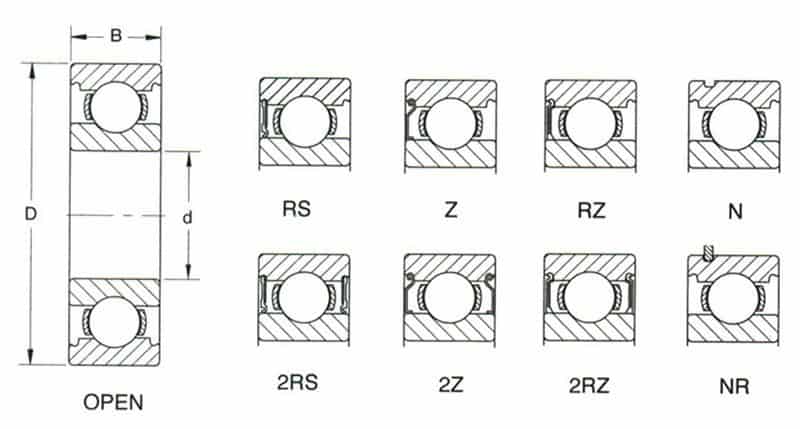 Related Deep Groove Ball Bearings Products
Related Deep Groove Ball Bearings Articles