TIMKEN
TFL-BEARINGS is an authorized distributor of the full range of Timken® bearings. Timken® engineering bearings have close tolerances, proprietary internal geometries, and high-quality materials. TFL focuses on Timken® miniature, precision, ball bearings, spherical bearings, rod ends, and cylindrical bearings, which provide strong performance, consistency, and reliability.
ABOUT

TIMKEN
Timken operates in 30 countries and territories. On October 3, 2011, it acquired Drives LLC (Drives). On July 1, 2011, Timken acquired Philadelphia Gear Corp. (Philadelphia Gear). In January 2013, it acquired the assets of Wazee Companies, LLC. In March 2013, it acquired Interlube Systems Ltd."
For more than 100 years, Timken has focused on value creation for diverse industries and market segments. We've grown considerably since our founding in 1899, but solving customer problems is still at the core of our business, just like it was when founder Henry Timken patented a tapered roller bearing design that made life easier for freight wagon operators and their mules.  
The Timken Company (Timken) develops, manufactures, markets, and sells products for friction management and mechanical power transmission, alloy steels, and steel components. The Timken Company manufactures and manages global supply chains for two core product lines: anti-friction bearings and adjacent mechanical power transmission components and specialty steel and related precision steel components. Its products and services include bearings and power transmission, tapered roller bearings, precision cylindrical and ball bearings, spherical and cylindrical roller bearings, chains and augers, gear-drive systems, aerospace products and services, steel and precision steel components.
Key

TIMKEN

Bearings Products
TFL Bearings is the authorized distributor of TIMKEN bearing. TIMKEN is the leading manufacturer of almost all bearing types. TFL Bearings has the unique ability to support huge TIMKEN bearing products through our inventory location, dedicated bearing application engineering personnel, and experienced TIMKEN bearing sales team.
TFL Bearings can provide most of the bearing products in the TIMKEN Bearing catalog. If you need our help, we are happy for you, you can fill out our online form and bearing engineers exchange.
TIMKEN® ADAPT™ ROLLER BEARINGS
They are available in a variety of sizes and are the most popular of all rolling element bearings. This type of bearing supports radial and a certain degree of axial load in both directions.
Key Benefits
Proven Performance
Timken conducted extensive in-house testing against equivalent-size toroidal bearings from leading brands. Results confirm ADAPT bearings offer:

Including 21 heat generation and bearing life tests conducted on 170 ADAPT and 50 competitor bearings; over 70,000 testing hours and over 8 years; bearings manufactured to ISO 2212 boundary dimensions (60 & 110 x 28 mm); speeds ranging from 1200 to 4800 RPM; loads between 10 and 50 percent of ISO calculated C1 rating.
Easier Installation
The ADAPT bearing consists of an inner ring, outer ring, and roller/retainer assembly. The separable components simplify installation, removal, and inspection. The retainer holds the rollers in position, creating a single assembly that prevents the rollers from being damaged during mounting and dismounting. The inner ring and outer ring can be installed in either direction, helping to avoid common mounting errors. No special tooling is required.
ADAPT for Continuous Caster Applications
The metal industry's tough environment places extreme demand on equipment. That makes maintaining operations and reducing downtime essential in continuous casters where performance and reliability are critical. ADAPT's innovative design redefines the preferred choice of bearings for the float position in strand roll support segments.
ADAPT for Paper Mill Applications
From paper dryers to shaker screens and blowers and fans, ADAPT bearings outperform in tough environments. Timken's ADAPT bearings provide a better option for handling misalignment and axial float.
Design Attributes
Size range: 100 mm to 170 mm bore (3.94 in. to 6.69 in.)
Full-complement design with a roller retainer to help eliminate roller fallout
Simultaneous full misalignment and axial displacement capabilities
Unique internal geometry optimizes contact stress and roller stability
Standard ISO dimensions simplify interchange with toroidal and spherical roller bearings
High static radial capacity for maximum reliability
Misalignment capability of +/-0.5 degrees (8.7 milligrams)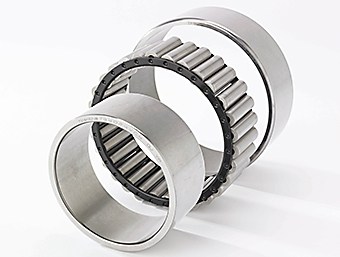 A wide variety of bearing types and design variations are available to meet the requirements of virtually all precision instrument applications. Bearing types include radial retainer, pivot, thrust, high speed radial, angular contact and full ball complement. Many selections also are available in both inch and metric dimensions.
Design Attributes
Extended inner rings and flanged outer rings to facilitate mounting.
Shields and seals for contamination protection.
Radial play and contact angle variations to suit application loading and deflection requirements
Various ball retainer styles and materials for optimum bearing performance.
Factory lubrication from a stock of several hundred lubricants.
Tolerance levels to exact application requirements.
Ring and ball selection choices include AISI 440C stainless steel, SAE 52100 chrome steel, beryllium copper, and ceramics.
Performance testing for noise and friction torque specifications available.
Applications
Medical and industrial handpieces
Flowmeters
Fuel controls
Gyros, synchros and servos
Motors
Cryogenic coolers
Pulmonary assist devices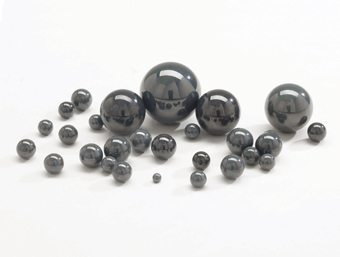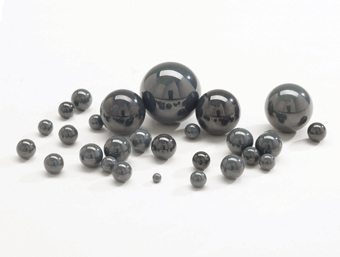 Our deep groove ball bearings deliver reliable performance in a wide range of applications and conditions. With super-finished raceways and controlled geometries, our premium design helps ensure consistent quality. Our portfolio includes standard, thin sections, narrow, wide, and miniature, and extra-small deep groove ball bearings that span 3 mm to 400 mm bore sizes. The extended product line includes a complete offering of open, shields, seals, and snaps ring combinations.
Easy Interchange
Designed as metric bearings, our deep groove ball bearings follow ISO standards and are dimensionally interchangeable with competitor metric products.
Premium Lubricants
For reduced torque and a quieter operation, Mobil Polyrex™ EM premium lubricant comes standard on all Timken sealed and shielded deep groove ball bearings. This grease has a temperature range from -29° C to 177° C.
Brass Cage Availability
Deep groove ball bearings with brass cages (available in select sizes) can deliver extra strength and durability in the most unrelenting conditions: extreme shock loads, high vibrations, and high forces due to acceleration.
Quiet Running for Electric Motor Quality
Deep groove ball bearings are frequently used in electric motor applications to minimize vibration and noise. To meet our long-standing electric motor quality guidelines we designed in:
Superfinishing on raceways to reduce friction
Preferred clearance designation (C3)
Premium grease for high performance, low torque, and less noise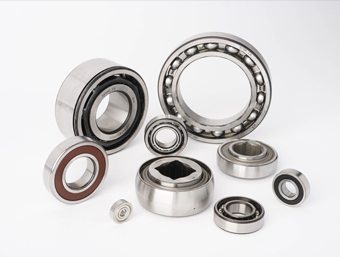 Food and beverage manufacturers and producers need premium products that deliver machinery uptime and food safety. You can meet these challenges head-on with Timken® corrosion-resistant deep groove ball bearings.
Constructed with stainless steel rings, balls, and cages, these corrosion-resistant materials, and food-grade lubricants can help elevate food safety and production uptime with improved reliability. Standard, thin-section, narrow and miniature constructions are offered in the following series and configurations:
Open design, double contact seals and double shields
Food-grade grease, food-grade Solid Lube; and general industrial grease
Product Advantages
Resist corrosion and improve metal detectability with stainless steel rings, balls and cages
Improve food safety with NSF H1 registered waterresistant grease for shielded and sealed bearings
Versatile Timken® Solid Lube is a grease alternative for harsh environments
Handle a wide range of operating temperatures with high-performance lubricants
Gain Solutions That:
Improve Food Safety
Our products meet stringent food safety legislation and regulations including compliance with FDA 21.CFR 178.3570. As a result, you can see gains in operational performance.
Reduce Maintenance
Premium products are designed to operate longer in demanding applications and environments.
Decrease Unplanned Downtime
Long-lasting products help you avoid sudden, expensive shutdowns. Head off costly changeouts with products designed to handle corrosive conditions and harsh chemicals.
Increase Overall Productivity
Our products are designed for efficiency. You can maintain optimum operating efficiency despite chemical washdowns and wet environments.
A Smart Fit
Our corrosion-resistant deep groove ball bearings are an ideal fit for a variety of applications:
Poultry deboning machines
Conveyor rolls
Form fill seal machines
Filling and seaming equipment
Combination weigher
Labeling equipment
Solid Lube
Timken FVSL613 Solid Lube, a grease alternative for harsh environments, is a microporous polymer structure combined with high-performance oils and additives.
The solid lubricant can contain up to three times as much oil as a similar volume of grease. Solid Lube completely fills the free volume in the bearing between the races, rolling elements, and the cage.
During bearing rotation, the solid lubricant polymer releases the appropriate amount of oil to lubricate the rolling elements and raceways.
Timken Solid Lube Features:
Hygienic.
Its unique makeup helps prevent lube from contaminating food products. Timken FVSL613 Solid Lube option contains an NSF H1-registered synthetic oil that complies with FDA guidelines for lubricants with incidental food contact under 21.CFR 178.3570.
Protected.
Full-fill and large-oil reservoirs help guard against washdown and ingress of contaminants for safe and reliable operation.
Cost-effective.
Timken Solid Lube can help reduce your operating costs and increase operational productivity.
Versatile.
With a wide range of Solid Lube solutions, we can match application requirements, including industrial, high-temperature, or extreme washdown environments.
For product data, price and availability, contact your local sales representative.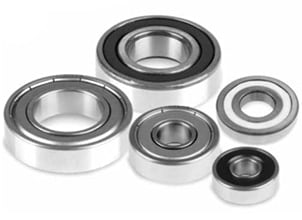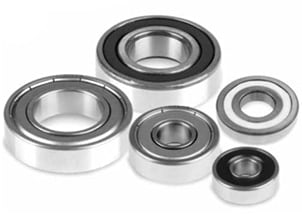 TIMKEN® ANGULAR CONTACT BALL BEARINGS
Timken® angular contact ball bearings are designed for combination radial and axial loading. Single-row bearings have high thrust capacity in one direction. Some single-row bearings are specifically designed for duplex mounting in sets for maximum performance. Double-row Conrad bearings can accommodate thrust in both directions.
Size Range
Single-row: 10 mm – 150 mm (0.3937 in. – 5.9055 in.) bore
Double-row: 12 mm – 150 mm (0.4724 in. – 5.9055 in.) bore
Design Attributes
Specific geometry of angular contact bearing raceways and shoulders creates ball contact angles that support higher axial loads.
Expanded options include special lubricants, cage materials, preloads and coatings for additional corrosion resistance.
Applications
Angular contact ball bearings are engineered for use in high-speed, high precision applications for:
Agriculture
Chemical
General industry
Utilities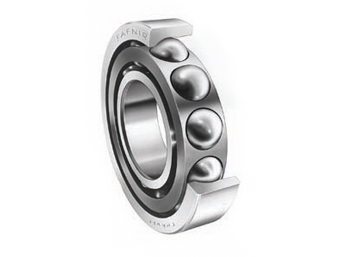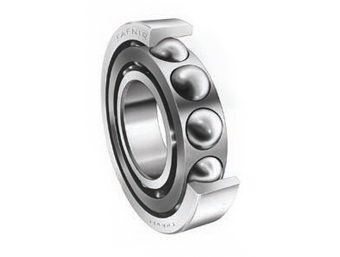 TIMKEN® PRECISION BALL BEARINGS
Precision ball bearings are used for high precision applications in a variety of markets, including aerospace, health, machine tool, robotics, and the general industry.
MM/MMV (Machine Tool Bearings)
Super-precision bearings manufactured to MM/MMV tolerances combine the accuracy and performance of ABEC 9/ISO P2 with the non-critical features of ABEC 7/ISO P4 levels for cost-effectiveness.
MMX (Machine Tool Bearings)
Type MMX super-precision bearings are made to ABEC 9/ISO P2 levels and have closer tolerances and running accuracies than ABEC 7/ISO P4 tolerances. Ideal for ultra-high-speed grinding spindles designed for tight dimensional tolerances and super-fine surface finishes.
HX (Machine Tool Bearings)
Type HX delivers excellent running accuracy and is manufactured to precise ABEC9 (ISO P2) levels for runout tolerances.
Ceramic hybrid angular contact ball bearings combine steel rings with ceramic rolling elements to deliver higher spindle speeds and increased dynamic radial stiffness.
Ball Screw Support Bearings
Ball screw support bearings are available in single- and double-row configurations and are widely used in motion control applications.
Miniature and instrument bearings are used in medical and industrial handpieces and other precision applications. Ball-bearing designs include radial, angular contact, thrust, and pivot.
Thin Section Bearings
Thin section bearings are available in radial, angular contact, and fractured race designs and are used in precision applications such as gimbals, rotary joints, and robotics.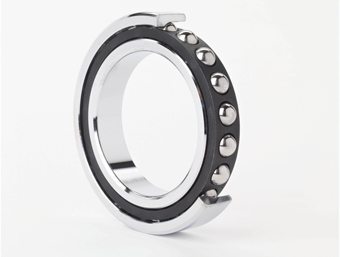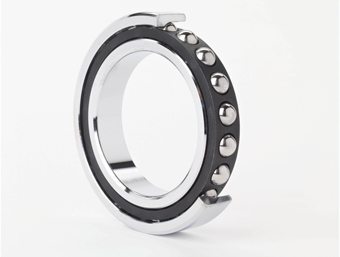 TIMKEN® EDT STAINLESS STEEL BALL BEARINGS
EDT ball bearings are ideal for high-speed and high tension applications. Stainless steel ball bearings minimize surface corrosion and are more chemically resistant than carbon steel bearings. Choose food-grade grease or solid lubricant. EDT has stainless ball bearings for all kinds of requirements.
Good availability, either greased or solid lubricated
Three kinds of ball bearings for every application, including:

Value Ball Bearings
Choice Ball Bearings
Classic Ball Bearings

Available in stainless or polymer housings
Ideal in applications not suitable for plane bearings:

Flat or v-belt tensioned drives
Round rubber or urethane belting
Curved conveyors
Side flexing tabletop chain
Direct motor drives
Overhung loads
High speed shafts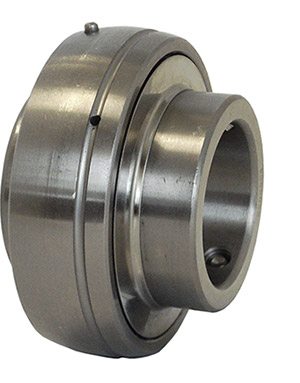 TIMKEN® CYLINDRICAL BEARINGS
Minimize drag. Reduce heat. And perform better, for longer, with less maintenance and downtime. These are the true tests of any bearing. Our comprehensive line of single-, double- and multi-row Timken® cylindrical roller bearings helps extend equipment life and lower maintenance costs.
Single Row
Timken® single-row EMA series cylindrical roller bearings incorporate a unique cage design, proprietary internal geometry, and special surface textures, available in a wide variety of size ranges and configurations.
Applications
Cement and coal pulverizers
Pumps
Compressors
Planetary gears
Gear boxes
Centrifuges
Mining equipment
Aggregate processing
Transmissions
Double Row
Two-row, or double-row, cylindrical bearings are designed for additional strength in carrying radial loads. These bearing types are interchangeable so the dimensions and diameter under the rollers (NNU style) and diameter over the rollers (NN style) are held to an ISO/DIN standard. Interchangeability is designed for the ring without the rollers to allow interchange with competitor inner rings.
Multiple Row
Four-row cylindrical bearings are almost exclusive to the metals industry and carry heavy radial loads in steel, aluminum, and other metal rolling mills.
Size Range: 145 mm to 1040 mm Bore.
Design Attributes
Design offers very high radial load capacity. No thrust capacity.
Straight and tapered bores available.
Inner races are interchangeable with outer assemblies.
Applications
Back-up rolls
Work rolls
Cement crushing
Single Row Full Complement
Full-complement (NCF) single-row Timken® bearings include integral flanges on the inner and outer rings. These bearings also can manage axial loads in one direction and permit small axial displacements.
Double Row Full Complement
​
Timken now offers a broader range of full complement cylindrical roller bearings to meet the need for increased radial load carrying capacity by maximizing the number of rollers in a given envelope.  The expanded offering includes multiple series of one-row and two-row designs starting at 100 mm bore.
Size range: 100 mm bore to 2000 mm OD
Design Attributes
Designed to ISO/DIN specified interchangeable boundary dimensions where available.
Sold as a completely unitized assembly.
Both single row and double row products available in same size range.
Standard designs use NCF, NNCF nomenclature.
Full complement construction, no cage included.
High capacity, but operating speed may be an issue requiring close application scrutiny.
Assembly outer ring design provides significant internal axial float capability.
Applications
Gear Drives
Crop Shears
Rolling Mills
General Industrial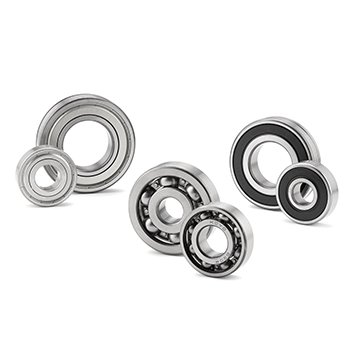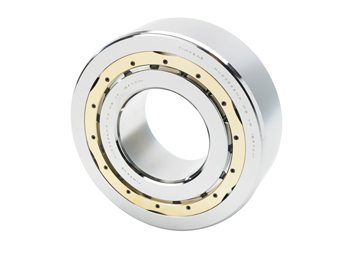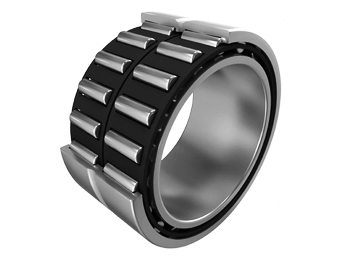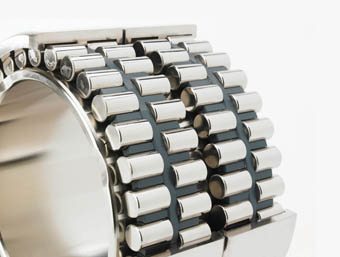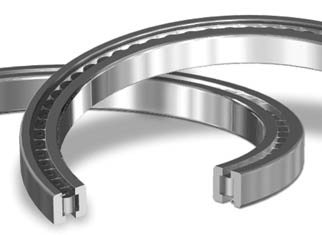 TIMKEN FAFNIR® BALL BEARING HOUSED UNITS
Timken offers one of the broadest lines of mounted bearing solutions with various selections for bearing types, sealing solutions, locking options, and housing styles. Strong operational results come from repeatable, reliable performance. Reduce damage, contamination, and downtime. Install Timken® Housed Units to achieve consistency, control, and confidence.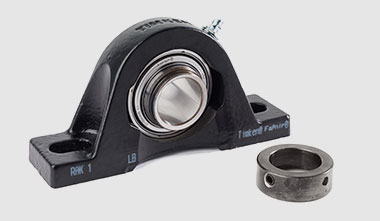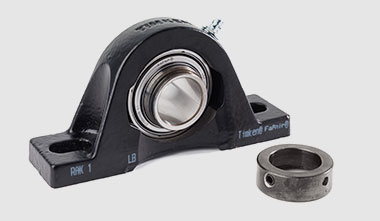 TIMKEN® SPHERICAL ROLLER BEARINGS
Timken® Spherical Roller Bearings with hardened steel cages deliver greater fatigue strength, increased wear-resistance, and tougher protection against shock and acceleration.
​Timken® Spherical Roller Bearings with brass cages provide extra strength and durability in the most unrelenting conditions, including extreme shock and vibration, high acceleration forces, and minimal lubrication.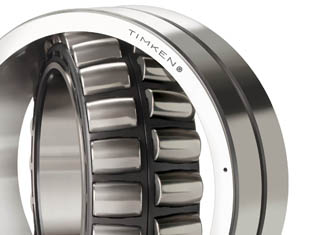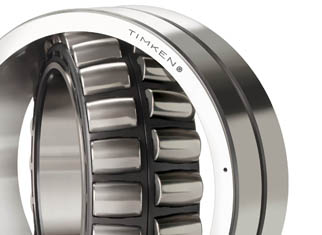 TIMKEN® TAPERED ROLLER BEARINGS
Single-row tapered roller bearings are the most basic and widely used, consisting of a cone assembly and a cup. Timken patented the first in 1898 and today offers the world's widest variety in inch and metric sizes.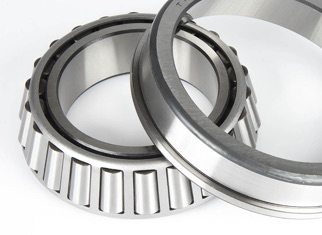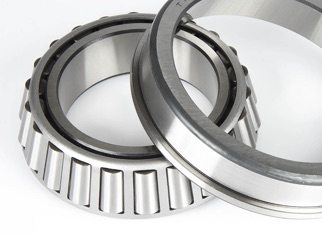 TIMKEN® THRUST BEARINGS
The TPS type thrust cylindrical bearing is similar to type TP, except the bottom washer is comprised of two races, with the contacting faces spherically ground. The TPS bearing is self-adjusting to initial misalignment. It is not suggested for applications where alignment may be continuously changing (dynamic misalignment).
Size range:
50.8 mm to 406.4 mm (2 in. to 16 in.)
Design Attributes:
Bottom washer design makes bearing adaptable to initial misalignment.
Overlapping roller paths prevent "grooving" of races and prolong bearing life.
Minor radial displacement of the races does not affect the operation of a TPS bearing, resulting in manufacturing economies and easy installation.
Simple design is the most economical to purchase and install.
Applications:
Construction wheeled equipment
Drilling equipment
Lifting equipment
Power generation gearboxes
Download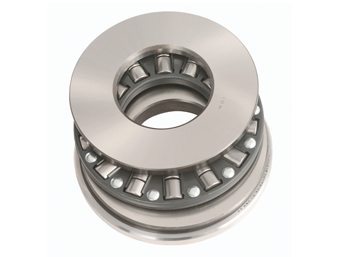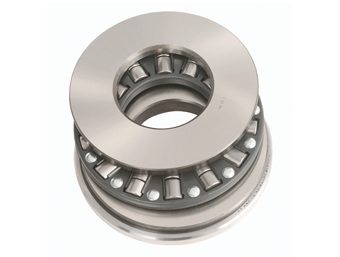 Find more products in China.
You can contact us any convenient way. We are available 24/7 via fax or email.

You can also use the quick contact form below or visit our office personally. Please email us with any questions or inquires or use our contact data. We would be happy to answer your questions.