NTN NJ Series NJ206 e Cylindrical Roller bearing with Size Chart
Cylindrical Roller Bearings are in linear contact with the raceways.They have a high radial load capacity and are suitable for high speeds.
There are different types designated as NU, NJ, NUP, N, NF, The outer and inner rings of all types are separable.
Some cylindrical roller bearings have no ribs on either the inner or outer ring, so the rings can move axially relative to each other. These can be used as free-end bearings. Cylindrical roller bearings, in which either the inner or outer rings has two ribs and the other ring has one, are capable of taking some axial load in one direction.  Japanese NSK, NTN, KOYO, NACHI bearings
Pressed steel or machined brass cages (retainers) are generally used, but sometimes molded polyamide cages are also used.
Depending on the existence of ribs on their rings, Cylindrical Roller Bearings are classified into the following types: NU, NJ, NUP, N, NF
The special feature of this series
NTN NJ Series NJ206 E Cylindrical Roller bearing with Size Chart
Cylindrical bearing type NJ has double-ribbed outer and single-ribbed inner rings and can support heavy radial loads, as well as light unidirectional thrust loads up to 10 percent of the radial load. The thrust load is transmitted between the diagonally opposed rib faces in a sliding rather than a rolling motion.
Cylindrical Roller bearing Design Attributes
Design features outer ring with two integral ribs and an inner ring with a single rib.
Supports heavy radial and light unidirectional thrust load up to 10 percent of radial load.
Angle ring can be used to turn a floating bearing into a fixed one.

Cylindrical Roller bearing Applications
Cement making equipment such as crushers; vertical, ball and rolling mills; conveyor drives; gear reducers, spherical pillow blocks; trunnions and rotary kilns
Power generation equipment such as pulverizers and gearboxes and gear drives Oilfield equipment such as mud pumps, drawworks, swivels, block hooks, crown blocks, traveling blocks and top drives
We are Cylindrical Roller bearing manufacturer, inquiry us directly.
NTN NJ Series NJ206 e Cylindrical Roller bearing with Size Chart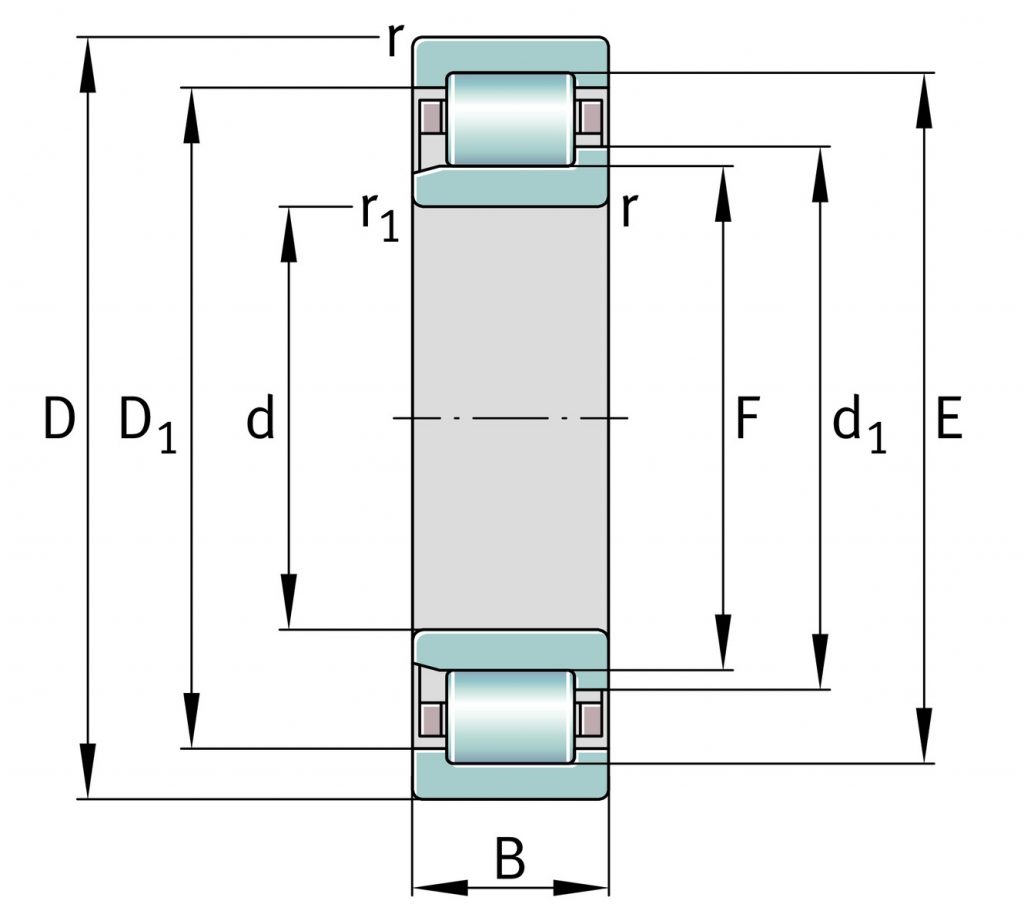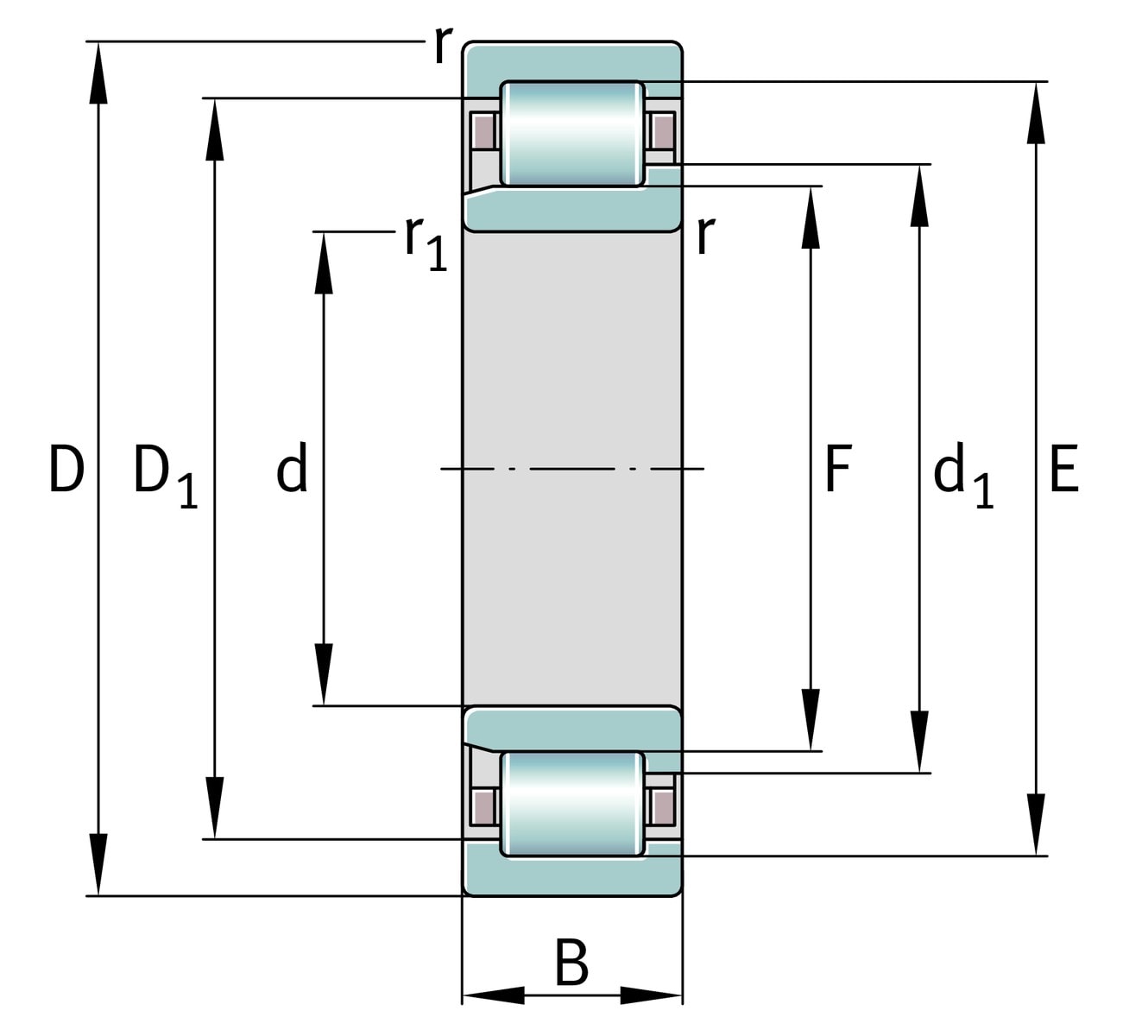 Main Dimensions & Performance Data
| | | |
| --- | --- | --- |
| d | 30 mm | Bore diameter |
| D | 62 mm | Outside diameter |
| B | 16 mm | Width |
| Cr | 46,000 N | Basic dynamic load rating, radial |
| C0r | 37,500 N | Basic static load rating, radial |
| Cur | 5,500 N | Fatigue load limit, radial |
| nG | 16,300 1/min | Limiting speed |
| nϑr | 9,600 1/min | Reference speed |
| ≈m | 0.204 kg | Weight |
Available brands: INA/FAG, KOYO, NSK, SKF, NTN-SNR, IKO, NACHI, TIMKEN, different suffixes are assigned according to their characteristics. Please pay attention to the bearing comparison table (see more information). In addition, to meet the special needs of the equipment, we accept bearing customization to meet your specific needs.
Latest content
Better performing, longer-lasting, smoother running. More reliable and more versatile and more versatile Performance fine-tuned for your application. Beyond our catalog offering, SKF Explorer deep groove ball bearings are a great choice when you…
Quality and Pricing
We have our own brand "TFL" and have passed ISO9001: 2000 certification. We have the most advanced production equipment bearings, bearing testing equipment, first-class production lines, and a rigorous testing process, which directly ensures product bearing quality.
Because our range of products consists of products of neutral brands, we have the possibility to offer our customers an attractive price, more quantities for purchasing, the lower price will get.
Don't hesitate to contact us via our contact form if you have any further questions…
Find more products in China.
You can contact us any convenient way. We are available 24/7 via fax or email.

You can also use the quick contact form below or visit our office personally. Please email us with any questions or inquires or use our contact data. We would be happy to answer your questions.
30-Day Money-Back Guarantee
We back every sale with a 30-day money-back guarantee. If you're somehow not happy with your purchase, just let us know.
All Prices in US Dollars