Miniature ball bearings – smooth run 608 open C3 8x22x7 mm 
miniature ball bearing with smallest dimensions
without lubrication, for low frictional resistance and a particularly smooth running
suitable for high radial loads and light axial loads in both directions
suitable for high running accuracy and very high speeds
cage material: plastic; the low weight and the elasticity of the plastic have a positive effect on the sliding and emergency running properties as well as the shock resistance; suitable for quiet running
seal: open (without seal); for higher speeds than with sealed ball bearings
with increased radial internal clearance (C3): for high-temperature gradient between the bearing rings or for fastening with press-fit
good fixed bearing property, but can also be used as a floating bearing, each in both directions
manufacturers of bearings, such as FAG, KOYO, NSK, SKF, SNR, OEM, etc. assign different suffixes for their characteristics, for better orientation take note of the comparison table of bearings (see further information)
Technical Data:
| | |
| --- | --- |
| Inside Ø (mm): | 8 |
| Outside Ø (mm): | 22 |
| Width (mm): | 7 |
| Tolerance for inside-Ø (mm): | 0/-0,008 |
| Tolerance for outside-Ø (mm): | 0/-0,009 |
| Tolerance for width (mm): | 0/-0,12 |
| Rows Of Balls: | single row |
| Seal: | open |
| Internal Clearance: | C3 (Increased Internal Clearance) |
| Flange: | no |
| Slot & Snap Ring: | no |
| Ring Material: | Chrome Steel |
| Rolling Element Material: | Chrome Steel |
| Cage Material: | Plastic |
| Full Complement Ball Set: | no |
| Magnetic: | yes |
| Product weight: | 0,0120 Kg |
Special feature of this series
Miniature ball bearings – smooth run 608 open C3 8x22x7 mm (Material: 100Cr6, Nylon cage, not lubricated)
Main dimensions according to DIN 625-1. Miniature deep groove ball bearings of this series 6 are comparatively small and have an inner diameter of 8 millimeters. They are particularly designed for a smooth run. An increased internal clearance (C3) and a dry run, without lubricants, guarantee long running times. For an even faster, smoother and longer run hybrid models with ceramic balls are suitable.
Manufacturers of bearings: such as FAG, KOYO, NSK, SKF, SNR, etc. assign different suffixes for their characteristics, for better orientation take note of the comparison table of bearings (see further information)
Can be customized to meet your specific needs.
The miniature ball bearing 608-C3-TN-FS is particularly smooth-running, since it is not lubricated and has a higher radial internal clearance (C3). It is small and suitable for installation with limited space and on thin shafts. It can withstand very high speeds. Main dimensions according to DIN 625-1.
Other options: Metal shield (ZZ) or rubber seal (2RS) can be provided.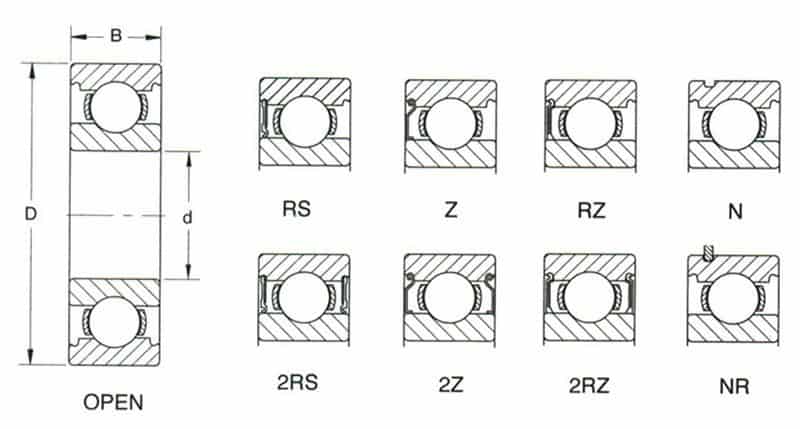 Deep Groove Ball Bearings are able to accommodate low to heavy radial loads and low to moderate thrust loads in either direction. They are available with metal shields (ZZ) or rubber seals (2RS). Several tolerance grades (Abec 1-9), internal clearance (C2 to C4) and cage designs are available to best suit the running precision and speed of the application.
Common Options:
ZZ– Two Metal Shields
2RS– Two Rubber Seals
NR– Snap Ring
M– Brass Cage
C0– Normal Internal Clearance
C3– Greater than normal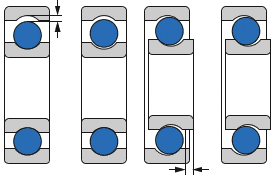 Related Deep Groove Ball Bearings Products
Latest content
Application of Deep Groove Ball Bearing in Coal Industry Mechanical mine coal mining equipment in a transmitted dedicated transport large mechanical equipment, including mining, conveyors, mine boring equipment, auxiliary transport…
The ABEC scale is an industry-accepted standard for the tolerances of a ball bearing. It was developed by the Annular Bearing Engineering Committee (ABEC) of the American Bearing Manufacturers Association (ABMA).
Throughout the late 1800s, stainless steel was a great boon in countless industries and applications. Today, an incredible variety of specific stainless steel grades are available, not to mention stainless…
Quality And Pricing.
We have our own brand "TFL" and have passed ISO9001: 2000 certification. We have the most advanced production equipment bearings, bearing testing equipment, first-class production lines, and a rigorous testing process, which directly ensures product bearing quality.
Because our range of products consists of products of neutral brands, we have the possibility to offer our customers an attractive price, more quantities for purchasing, the lower price will get.
Don't hesitate to contact us via our contact form if you have any further questions…
Find more products in China.
You can contact us any convenient way. We are available 24/7 via fax or email.

You can also use the quick contact form below or visit our office personally. Please email us with any questions or inquires or use our contact data. We would be happy to answer your questions.
30-Day Money-Back Guarantee
We back every sale with a 30-day money-back guarantee. If you're somehow not happy with your purchase, just let us know.
All Prices in US Dollars