Miniature Deep Groove Ball Bearings of the series Full Ceramic CE-6 
extremely durable by high hardness and corrosion resistance
extremely high surface quality by greater rigidity
better emergency running characteristics compared to steel ball bearings
low tare weight, circa 40% lighter than bearings made of rolling bearing steel
suitable for high-temperature applications
suitable for a dry run
current-insulating, low electrical and thermal conductivity
non-magnetic
extremely corrosion resistant
extremely resistant to chemicals
suitable for foodstuff-applications
temperature resistance from -50 up to +240°C
material: ZRO2 – zirconia (rings, balls), PEEK – polyetheretherketone (cage)
manufacturers of bearings, such as FAG, KOYO, NSK, SKF, SNR, OEM, etc. assign different suffixes for their characteristics, for better orientation take note of the comparison table of bearings (see further information)
| Bearing number | Bore Diameter (d) | Outer Diameter (D) | Width (B) | Seal | Internal Clear­ance | Ring Material | Rolling Element Material | Cage Material |
| --- | --- | --- | --- | --- | --- | --- | --- | --- |
| CE-683-C3-ZRO2-PEEK | 3 | 7 | 3 | open | C3 | Ceramics | Ceramics | PEEK |
| CE-693-C3-ZRO2-PEEK | 3 | 8 | 3 | open | C3 | Ceramics | Ceramics | PEEK |
| CE-693-ZRO2-PTFE | 3 | 8 | 3 | open | CN | Ceramics | Ceramics | PTFE |
| CE-603-C3-ZRO2-PEEK | 3 | 9 | 3 | open | C3 | Ceramics | Ceramics | PEEK |
| CE-603-ZRO2-PTFE | 3 | 9 | 3 | open | CN | Ceramics | Ceramics | PTFE |
| CE-623-C3-ZRO2-PEEK | 3 | 10 | 4 | open | C3 | Ceramics | Ceramics | PEEK |
| CE-623-ZRO2-PTFE | 3 | 10 | 4 | open | CN | Ceramics | Ceramics | PTFE |
| CE-684-C3-ZRO2-PEEK | 4 | 9 | 4 | open | C3 | Ceramics | Ceramics | PEEK |
| CE-694-C3-ZRO2-PEEK | 4 | 11 | 4 | open | C3 | Ceramics | Ceramics | PEEK |
| CE-694-ZRO2-PTFE | 4 | 11 | 4 | open | CN | Ceramics | Ceramics | PTFE |
| CE-604-C3-ZRO2-PEEK | 4 | 12 | 4 | open | C3 | Ceramics | Ceramics | PEEK |
| CE-604-ZRO2-PTFE | 4 | 12 | 4 | open | CN | Ceramics | Ceramics | PTFE |
| CE-624-C3-ZRO2-PEEK | 4 | 13 | 5 | open | C3 | Ceramics | Ceramics | PEEK |
| CE-624-ZRO2-PTFE | 4 | 13 | 5 | open | CN | Ceramics | Ceramics | PTFE |
| CE-634-C3-ZRO2-PEEK | 4 | 16 | 5 | open | C3 | Ceramics | Ceramics | PEEK |
| CE-634-ZRO2-PTFE | 4 | 16 | 5 | open | CN | Ceramics | Ceramics | PTFE |
| CE-685-C3-ZRO2-PEEK | 5 | 11 | 5 | open | C3 | Ceramics | Ceramics | PEEK |
| CE-685-W3-ZRO2-PTFE | 5 | 11 | 3 | open | CN | Ceramics | Ceramics | PTFE |
| CE-685-ZRO2-PTFE | 5 | 11 | 5 | open | CN | Ceramics | Ceramics | PTFE |
| CE-695-C3-ZRO2-PEEK | 5 | 13 | 5 | open | C3 | Ceramics | Ceramics | PEEK |
| CE-695-ZRO2-PTFE | 5 | 13 | 5 | open | CN | Ceramics | Ceramics | PTFE |
| CE-605-C3-ZRO2-PEEK | 5 | 14 | 5 | open | C3 | Ceramics | Ceramics | PEEK |
| CE-605-ZRO2-PTFE | 5 | 14 | 5 | open | CN | Ceramics | Ceramics | PTFE |
| CE-625-C3-ZRO2-PEEK | 5 | 16 | 5 | open | C3 | Ceramics | Ceramics | PEEK |
| CE-625-ZRO2-PTFE | 5 | 16 | 5 | open | CN | Ceramics | Ceramics | PTFE |
| CE-635-C3-ZRO2-PEEK | 5 | 19 | 6 | open | C3 | Ceramics | Ceramics | PEEK |
| CE-635-ZRO2-PTFE | 5 | 19 | 6 | open | CN | Ceramics | Ceramics | PTFE |
| CE-686-C3-ZRO2-PEEK | 6 | 13 | 5 | open | C3 | Ceramics | Ceramics | PEEK |
| CE-686-ZRO2-PTFE | 6 | 13 | 5 | open | CN | Ceramics | Ceramics | PTFE |
| CE-696-C3-ZRO2-PEEK | 6 | 15 | 5 | open | C3 | Ceramics | Ceramics | PEEK |
| CE-696-ZRO2-PTFE | 6 | 15 | 5 | open | CN | Ceramics | Ceramics | PTFE |
| CE-606-C3-ZRO2-PEEK | 6 | 17 | 6 | open | C3 | Ceramics | Ceramics | PEEK |
| CE-606-ZRO2-PTFE | 6 | 17 | 6 | open | CN | Ceramics | Ceramics | PTFE |
| CE-626-C3-ZRO2-PEEK | 6 | 19 | 6 | open | C3 | Ceramics | Ceramics | PEEK |
| CE-626-ZRO2-PTFE | 6 | 19 | 6 | open | CN | Ceramics | Ceramics | PTFE |
| CE-636-C3-ZRO2-PEEK | 6 | 22 | 7 | open | C3 | Ceramics | Ceramics | PEEK |
| CE-636-ZRO2-PTFE | 6 | 22 | 7 | open | CN | Ceramics | Ceramics | PTFE |
| CE-687-2RS-ZRO2-PTFE | 7 | 14 | 5 | 2RS | CN | Ceramics | Ceramics | PTFE |
| CE-687-ZRO2-PTFE | 7 | 14 | 5 | open | CN | Ceramics | Ceramics | PTFE |
| CE-697-C3-ZRO2-PEEK | 7 | 17 | 5 | open | C3 | Ceramics | Ceramics | PEEK |
| CE-697-ZRO2-PTFE | 7 | 17 | 5 | open | CN | Ceramics | Ceramics | PTFE |
| CE-607-C3-ZRO2-PEEK | 7 | 19 | 6 | open | C3 | Ceramics | Ceramics | PEEK |
| CE-607-ZRO2-PTFE | 7 | 19 | 6 | open | CN | Ceramics | Ceramics | PTFE |
| CE-627-C3-ZRO2-PEEK | 7 | 22 | 7 | open | C3 | Ceramics | Ceramics | PEEK |
| CE-627-ZRO2-PTFE | 7 | 22 | 7 | open | CN | Ceramics | Ceramics | PTFE |
| CE-688-C3-ZRO2-PEEK | 8 | 16 | 5 | open | C3 | Ceramics | Ceramics | PEEK |
| CE-688-W4-ZRO2-PTFE | 8 | 16 | 4 | open | CN | Ceramics | Ceramics | PTFE |
| CE-688-ZRO2-PTFE | 8 | 16 | 5 | open | CN | Ceramics | Ceramics | PTFE |
| CE-698-C3-ZRO2-PEEK | 8 | 19 | 6 | open | C3 | Ceramics | Ceramics | PEEK |
| CE-698-ZRO2-PTFE | 8 | 19 | 6 | open | CN | Ceramics | Ceramics | PTFE |
| CE-608-C3-SI3N4-PTFE-160 | 8 | 22 | 7 | open | C3 | Si3N4 | Ceramics | PTFE |
| CE-608-C3-ZRO2-PEEK | 8 | 22 | 7 | open | C3 | Ceramics | Ceramics | PEEK |
| CE-608-C3-ZRO2-PTFE | 8 | 22 | 7 | open | C3 | Ceramics | Ceramics | PTFE |
| CE-628-C3-ZRO2-PEEK | 8 | 24 | 8 | open | C3 | Ceramics | Ceramics | PEEK |
| CE-628-ZRO2-PTFE | 8 | 24 | 8 | open | CN | Ceramics | Ceramics | PTFE |
| CE-689-C3-ZRO2-PEEK | 9 | 17 | 4 | open | C3 | Ceramics | Ceramics | PEEK |
| CE-689-ZRO2-PTFE | 9 | 17 | 4 | open | CN | Ceramics | Ceramics | PTFE |
| CE-699-C3-ZRO2-PEEK | 9 | 20 | 6 | open | C3 | Ceramics | Ceramics | PEEK |
| CE-699-ZRO2-PTFE | 9 | 20 | 6 | open | CN | Ceramics | Ceramics | PTFE |
| CE-609-C3-ZRO2-PEEK | 9 | 24 | 7 | open | C3 | Ceramics | Ceramics | PEEK |
| CE-609-ZRO2-PTFE | 9 | 24 | 7 | open | CN | Ceramics | Ceramics | PTFE |
| CE-629-ZRO2-PTFE | 9 | 26 | 8 | open | CN | Ceramics | Ceramics | PTFE |
Special feature of this series
Main dimensions according to DIN 625-1. Full ceramic miniature deep groove ball bearings of the series 6 have low-wear, power isolating ceramic balls and rings. They are comparatively small and have an inner diameter of 2 to 9 millimeters. Therefore, they are suitable for relatively thin shafts and axis as well as for appropriate small space requirements. In the ratio of full ceramic miniature deep groove ball bearings to their low size, they can take up relatively high loads. They are temperature-resistant up to +200 °C with a cage of PTFE and temperature-resistant up to +240 °C with a cage of PEEK.
Manufacturers of bearings: such as FAG, KOYO, NSK, SKF, SNR, etc. assign different suffixes for their characteristics, for better orientation take note of the comparison table of bearings (see further information)
Can be customized to meet your specific needs.
The all-ceramic deep groove ball bearing CE-683-C3-ZRO2-PEEK has ceramic bearing rings and rolling elements. It, therefore, has outstanding properties and meets even the highest demands. It is small, suitable for installation with limited space and on thin shafts, and can withstand extremely high speeds. Main dimensions according to DIN 625-1.
Other options: Metal shield (ZZ) or rubber seal (2RS) can be provided.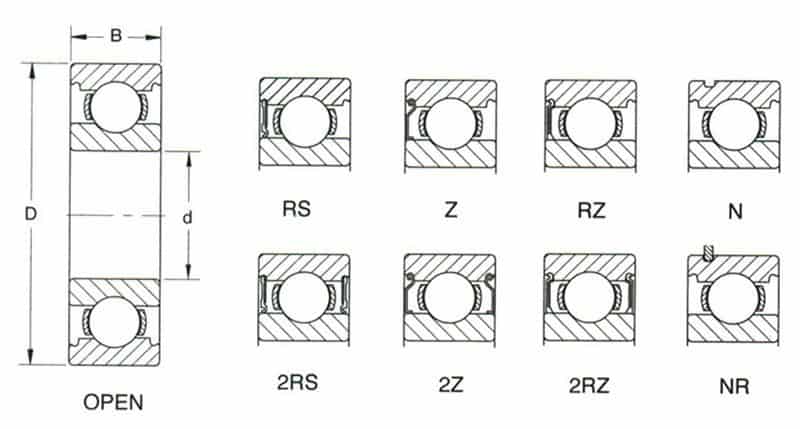 Deep Groove Ball Bearings are able to accommodate low to heavy radial loads and low to moderate thrust loads in either direction. They are available with metal shields (ZZ) or rubber seals (2RS). Several tolerance grades (Abec 1-9), internal clearance (C2 to C4) and cage designs are available to best suit the running precision and speed of the application.
Common Options:
ZZ– Two Metal Shields
2RS– Two Rubber Seals
NR– Snap Ring
M– Brass Cage
C0– Normal Internal Clearance
C3– Greater than normal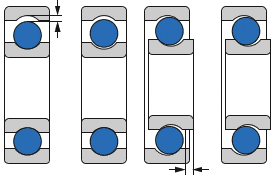 Related Deep Groove Ball Bearings Products
Related Deep Groove Ball Bearings Articles
Quality and Pricing
We have our own brand "TFL" and have passed ISO9001: 2000 certification. We have the most advanced production equipment bearings, bearing testing equipment, first-class production lines, and a rigorous testing process, which directly ensures product bearing quality.
Because our range of products consists of products of neutral brands, we have the possibility to offer our customers an attractive price, more quantities for purchasing, the lower price will get.
Don't hesitate to contact us via our contact form if you have any further questions…
Find more products in China.
You can contact us any convenient way. We are available 24/7 via fax or email.

You can also use the quick contact form below or visit our office personally. Please email us with any questions or inquires or use our contact data. We would be happy to answer your questions.